Spring has sprung. The grass is ris'. I wonder where Pete Davidson is.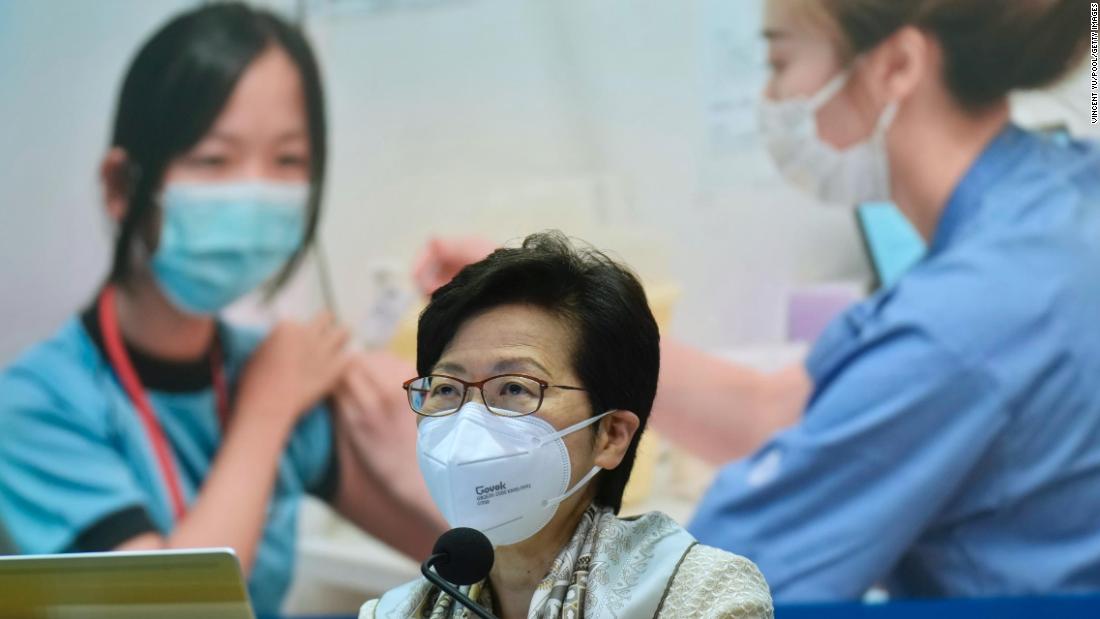 Hong Kong's economy has struggled throughout the pandemic, because the Asian financial hub, under pressure from mainland China, has instituted some of the world's most stringent Covid policies. Now, facing a massive Covid outbreak, Hong Kong is starting to give in.
Well, just a bit.
A quick recap of Hong Kong's "zero-Covid" policy during the pandemic:
Strict social distancing requirements

Forced business closures

Mandatory tests for anybody who may have been exposed

Quarantine requirements for close contacts of people who test positive

Weeks-long isolation for inbound travelers in hotel rooms

Sophisticated track-and-trace efforts to isolate positive cases

Requirement for all positive cases to go to a hospital, irrespective of the severity

Flight bans from countries with high Covid cases
So, yeah. Pretty strict.
DIALING BACK
But "zero Covid" hasn't achieved zero Covid. Surging Omicron cases have led to a growing number of fatalities and an overloaded health care system.
So Hong Kong announced Monday that it would lift flight bans and shorten quarantine requirements. Vaccinated Hong Kong residents in nine countries — India, the United Kingdom, the United States,  Australia, Canada, France, Nepal, Pakistan and the Philippines — would be allowed to return home starting April 1. And starting next month, vaccinated Hong Kong residents returning from all countries would be asked to quarantine in hotels for seven days, down from 14. 
The rationale for the decision: People are fed up. 
"I have a very strong feeling that people's tolerance are fading," Hong Kong Chief Executive Carrie Lam said at a press conference Monday. "I have a very good [feeling] that some of our financial institutions are losing patience about this sort of isolated status of Hong Kong, as Hong Kong is an international financial center."
"We have to make preparations for a relaunch of our economy," she added.
ECONOMIC DESTRUCTION
 My colleague Michelle Toh notes: Hong Kong's Covid policies have hurt the city's economy and standing among global business. 
Last month, more than 94,000 people departed the city, while only about 23,000 came in, immigration data showed. And in the first half of March, more than 50,000 people left, while about 7,000 entered.
According to the Hong Kong General Chamber of Commerce, the outflow is affecting businesses across the city's economy.
In a statement earlier this month, the chamber's chairman Peter Wong said that the city was "facing an exodus of educated workers on a scale not seen since the early 1990s."
 Although top companies have been giving their employees more flexibility and help paying for expensive hotel quarantines, some local businesses are teetering on the brink of collapse. And while some expatriates can command higher salaries for simply agreeing to move to the city, the city's poorest are struggling just to afford food or basic necessities.
So Hong Kong's lifting of some of its most stringent Covid policies may be welcome news to some. But it still has a long way to go to returning to any semblance of normalcy. 
Banks have seized $2 billion in cash from Evergrande, the embattled Chinese real estate developer, my colleague Laura He reports. One of its units — Evergrande Property Services — said some of its lenders had unexpectedly claimed around 13.4 billion yuan ($2.1 billion) of its bank deposits that were pledged as collateral for "third party guarantees." The company, which has defaulted on its debt, is one of China's largest and its most indebted developers with more than $300 billion of total liabilities, including about $19 billion outstanding offshore bonds held by international asset managers and private banks on behalf of their clients.
Going to a grocery store in recent months has been enough to give you a heart attack, and I don't mean because of your addiction to Chocolate Peanut Butter Pie Oreos (in this example, you = me).
Food prices rose 1% in February, the largest monthly increase since April 2020. Over the past 12 months, overall food prices increased 7.9%, the biggest jump since July 1981. Grocery store prices rose at an even faster clip.
Every food item tracked by the Bureau of Labor Statistics was more expensive last month than it was a year ago. Meat, eggs and soup prices have the widest gap from last year, jumping by double-digits through February.
Looking for ways to save money at the supermarket? My colleague Nathaniel Meyersohn has eight helpful tips:
Make a shopping list: 

Don't let those new Coolest Ranch Doritos tempt you. 

Shop around: 

Your favorite grocery store may not be the cheapest option.

Look for promotions and deals:

Stock up when Oreos are 2 for $6.

Use a store loyalty card: 

It's free. And it makes a great key fob.

Switch to store brands

: I mean, do you really care if your milk has a brand name label on it? It comes from a cow.

Beware of 'shrinkflation': 

Ever wonder why labels include "unit price?" It's so you know you're not getting hosed.

Buy frozen meat and veggies: 

Fun fact: frozen vegetables contain more nutrients than the ones sitting out in the produce section.

Look for ugly produce

: No one will judge your tomato that looks like Dom DeLuise.
There is an obvious need to move expeditiously to return the stance of monetary policy to a more neutral level. 
Silver fox of the Fed Jerome Powell (we can still make this joke when Allison is out) is sending up flares, beating the drum and doing everything he can to get Wall Street's attention: Rates are going up, faster and higher than investors expect. The more investors are prepared, the less markets will freak out. In theory, anyway.
🚙 Maserati unveiled its new Grecale SUV. It's only the second SUV in the Italian luxury brand's history and the first that will be available in an all-electric version. It's an early step toward making the Italian luxury car brand fully electric by 2030.
📉 India's IPO boom has turned to bust. Retail investors are questioning their huge valuations. The steep plunge in those stocks has also likely thwarted IPO plans for other Indian companies — at least for the foreseeable future. 
🚀 Jeff Bezos' space company, Blue Origin, said it will replace Saturday Night Live star Pete Davidson with a long-time employee on the company's next supersonic jaunt to the edge of space. The company announced Monday it will replace Davidson with its chief architect of its suborbital rocket, Gary Lai.