2021: The year a sickened America found its democracy under siege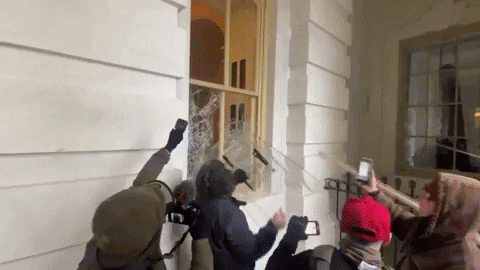 A pro-Trump mob invades Congress on January 6. (Brendan Gutenschwager) 

It's the most wonderful time of the year, unless you believe that a functioning, democratic political system and national unity is good for America — and the world.  
This is the last "Meanwhile" of the year, save for a pre-Christmas edition tomorrow, so it's a good chance to reflect on a tumultuous 2021. The year opened with one of the most shocking — and still barely believable episodes in US history: the storming of the US Capitol by supporters of then-President Donald Trump. Incited by his election fraud lies, the mob beat up police officers and sent lawmakers engaged in certifying Joe Biden's election win running for their lives.
As outrageous as those events were, the hope at the time was that they would mark the bitter dead end of a Trump era that tore at the roots of American democracy. But the ominous truth is that they marked only the opening skirmish of a challenge to free and fair elections and basic democratic values that has only worsened since.  
Still-emerging evidence shows Trump plotted a multi-front coup attempt behind the scenes to steal power and destroy the fundamental notion that citizens get to choose who leads them. While US institutions did hold firm, and Biden became president, the storm is yet to pass. Trump has set about dismantling the safeguards that thwarted him last time, seeking to install loyalists as state election officials. Republican state legislators have passed a string of laws that make it easier to steal elections and harder for Democrats and minorities to vote. 
Next year's midterm elections, in which Republicans have a good chance to grab back control of Congress, could cement Trump's personality cult as the Republican Party's sole identity. It is now all but impossible to run for office as a Republican without paying the ex-President's price for entry — endorsing his poisonous lie that he won the 2020 election and joining him in whitewashing the January 6 insurrection he inspired.  

Joe Biden is sworn in as president by Chief Justice John Roberts at his inauguration in Washington, DC, on Wednesday, January 20. 

Biden pleaded for unity in his inaugural address, vowing the pandemic could be beaten if America healed its internal estrangement.  
"Our history has been a constant struggle between the American ideal that we are all created equal and the harsh, ugly reality that racism, nativism, fear, and demonization have long torn us apart," Biden said. After a grueling first year of his presidency, that ugly reality is a long way from being purged.  
Still, Biden started out strong, passing a huge Covid-19 economic rescue package and treating the country to a novel experience of seeing a president who actually cared about tackling the worst public health crisis in 100 years. The one success of the Trump virus response, effective vaccines, seemed to promise a way out of the darkness. The economy bounced back, and the jobless rate plunged.   
But by July Fourth, when Biden prematurely declared near independence from the pandemic, the Delta variant was already seeding a new outbreak. Millions of Americans refused to take the shots that could save them, falsely convinced by the same conservative media misinformation machine that spewed Trump's election lies that a tyrannical government was ordering their inoculation. By late summer, after the debacle of the rushed Afghanistan evacuation and as the pandemic mocked his vows to shut it down, Biden's approval ratings tumbled. He did manage to pass a rare bipartisan bill to rebuild creaking roads, railroads and airports that honored his vow to work with his political enemies. But his economic progress was overshadowed by rising inflation and high gasoline prices.
Just before Christmas, bitter divides in the Democratic Party seemed to destroy a vast social spending and climate bill that would have made him one of history's greater reformers. The Omicron variant of Covid-19 now promises another winter spike in infections that threatens to overwhelm hospitals with the unvaccinated. More than 800,000 Americans are already dead. With a rough midterm election year ahead, Biden badly needs to reestablish a sense that he's in control. The next presidential election begins as soon as votes are counted in congressional elections in November. And if the President can't mount a comeback, Trump may not need to cheat to win the 2024 election.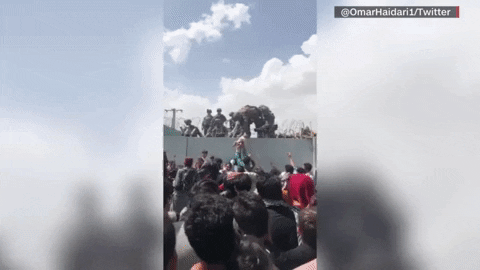 A viral video showed a toddler being handed over the Kabul airport wall to US troops. (Twitter/OmarHaidari1) 

To the rest of the world, Biden vowed: "America is Back."  
He was as good as his word, rejoining the Paris climate accord, rebuilding relations with allies alienated by Trump, and reentering international talks to try to rescue the Iran nuclear accord that his predecessor walked out on.   
The dominant foreign policy theme of this — and probably many future presidencies — will be the confrontation with rising China. Biden chose not to reject the more strident anti-Beijing stance of his predecessor. But he tried to corral US allies in the Pacific and Europe to form a broad front designed to shield democracy as President Xi Jinping's growing power and nationalism sparks alarm alongside his country's swift military build-up. There is genuine fear in Washington that Xi could try to unify mainland China and Taiwan by force in years to come, and a simmering debate about how far the US should go toward defending the self-governing democracy.  
Biden, like his Democratic predecessor, Barack Obama, wants to look toward Asia. But President Vladimir Putin's desire to recapture Soviet-era influence keeps pulling the US back across the Atlantic. Biden ended the year locked in a frantic diplomatic effort to convince the Russian leader not to invade Ukraine. The showdown is a vital test of US influence, amid widespread perceptions — after a rushed and bloody exit from Kabul that saw desperate Afghans plunging to their deaths from departing American planes — that US staying power is in question and that its polarization at home drains its power abroad.  
America might be back, but Biden's cold-eyed judgments of US interests and rising challenges to US superiority means there's no return to the days when Americans — and their friends and foes — saw the United States as the undisputed global power. 

 View in browser  |  All CNN Newsletters
Want to easily manage your newsletter subscriptions?
Copyright ©  2021 Cable News Network, Inc. A WarnerMedia Company, All rights reserved.
Our mailing address is:
Cable News Network, Inc. A WarnerMedia Company
1 CNN Center NW
Atlanta, GA 30303-2762
Want to change how you receive these emails?
You can u from this list.