M&A boom continues, anger spreads over European lockdowns, and rate hikes look distant. 
Two blockbuster deals may be set to cap a year that's already broken records for M&A bankers. Monster Beverage Corp., the maker of energy drinks, is exploring a combination with Corona brewer Constellation Brands Inc., according to people familiar with the matter. Monster Beverage has a market value of $47 billion, and Constellation Brands is worth $44 billion. Telecom Italia was put into play with KKR's offer to buy it for 10.8 billion euros, a move that could spark a fight for control over the former Italian monopoly. Shares in the telecom giant rose as much as 30% in Milan on KKR's offer.
Europeans took to the streets to protest the return of lockdowns and strict virus measures to stem a brutal fourth wave. Some demonstrations erupted into violence, with police in Brussels turning a water cannon on an unruly crowd. The most drastic measures so far are in Austria, where people woke up on Monday to the fourth national lockdown and the prospect of mandatory vaccinations from February. Wall Street, as usual, was unfazed. Strategists at Goldman Sachs Group Inc., JPMorgan Chase & Co. and Morgan Stanley reassured investors and offered recommendations for how to benefit from near-term uncertainty.
Investors are starting to believe central bankers who are adamant they're in no rush to raise rates. Hedge funds' bullishness toward the dollar is starting to evaporate amid speculation the U.S. currency has risen too much relative to the pace of any monetary tightening. Leveraged funds trimmed net long positions for a third straight week in the period through Nov. 16, according to data from the Commodity Futures Trading Commission. Even an interest-rate increase from the Bank of England next month looks like far from a done deal with officials tempering expectations over the weekend.
U.S. equity futures and European stocks started the Thanksgiving week on an optimistic note, buoyed by M&A activity and China signaling possible easing measures. Overnight the MSCI Asia Pacific Index dropped 0.3% while Japan's Topix index closed barely changed. In Europe the Stoxx 600 Index had gained 0.2% by 6:00 a.m. Eastern Time. S&P 500 futures were up 0.4%, oil held around $76 a barrel and gold fell. 
The Chicago Fed national activity index is due at 8:30 a.m. while Existing Home Sales numbers for October are out at 10:00 a.m. Then traders are braced for a wave of government debt supply as the Treasury front-loads auctions in the holiday-shortened week. Today features sales that include two- and five-year notes.
Here's what caught our eye over the last 24 hours.
And finally, here's what Joe's interested in this morning
With inflation running hot, many have concluded that the conditions we're seeing now represent some kind of failure or setback for Modern Monetary Theory (MMT). If anything, however, the last 18 months, have vindicated many of its core ideas. Here are a few things to consider:
1. Fiscal expansion is incredibly powerful. When the crisis hit last March, markets and many people expected economic Armageddon. To counteract it, the U.S. spent like never before to replace the lost incomes of the jobless and bolster the balance sheets of small businesses. What started off as an outright collapse has lead to a blisteringly fast labor market recovery, accompanied by strong household balance sheets. This, via Calculated Risk, remains one of my favorite charts. What's important to bear in mind is that these lines show the trajectory of job losses that were characterized as permanent when the layoff happened. Obviously many of the initial job losses (in key service sector jobs, for example) were always seen as de facto furloughs, and have also bounced back very fast.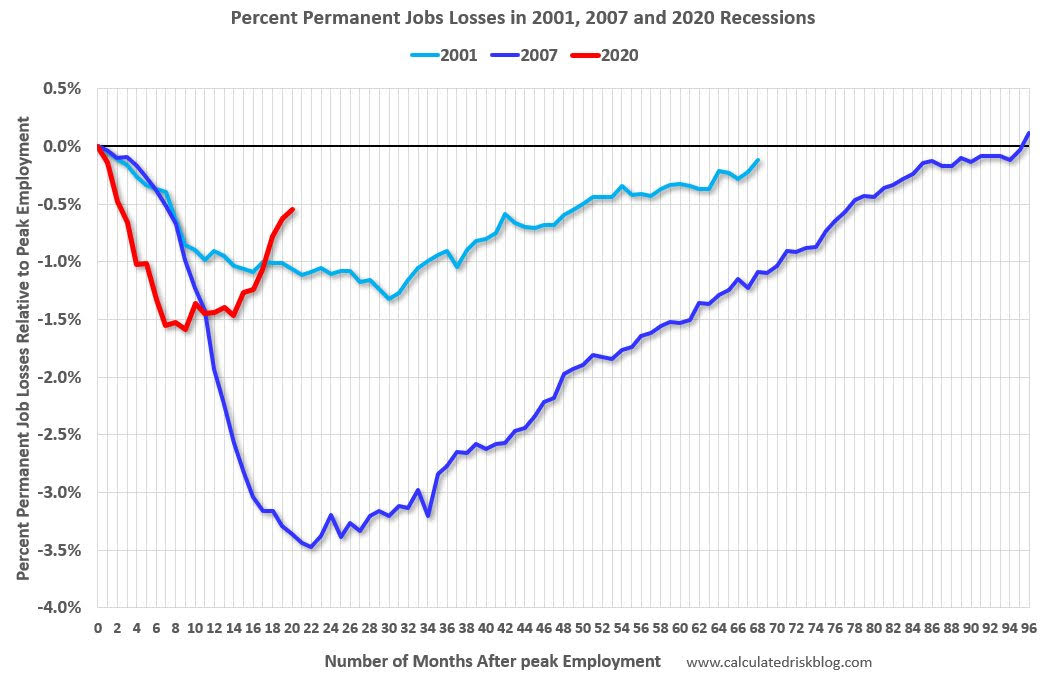 2. Inflation happens when we see real resources stretched to capacity. In some respects, the policy response to this crisis resembles that of the post-GFC. The Fed dramatically expanded its balance sheet both times. And the deficit soared both times. But inflation remained mild after the financial crisis. The reason? There was never any strain on real resources after the previous crisis. There were no supply disruptions. There was no shift to goods consumption that strained the ports. Labor markets remained in a high degree of slack. The inflation we're seeing now is not some line on the Fed's balance sheet or anything like that, but about strains on supply-side capacity. This is exactly what MMTers have been preaching forever. As Stephanie Kelton wrote in a Los Angeles Times piece in 2017, in theory Congress could easily afford to give every American a pony. The only constraint is whether we could breed enough ponies. The actual dollar amount would not be an issue.
2b. As a side note to this, and this is not strictly an MMT point per se, but it looks like we can dispense with the idea of total "Capacity Utilization' being a useful economic metric. By the official measures set by the Fed, we only just reached pre-crisis levels of capacity last month. And yet, it seems clear that the economy's overall capacity is strained by numerous metrics (the ports are the most obvious example, but also various factories and so forth). So the fact that we only just reached pre-crisis levels of capacity utilization should make people think twice about the usefulness of this particular metric.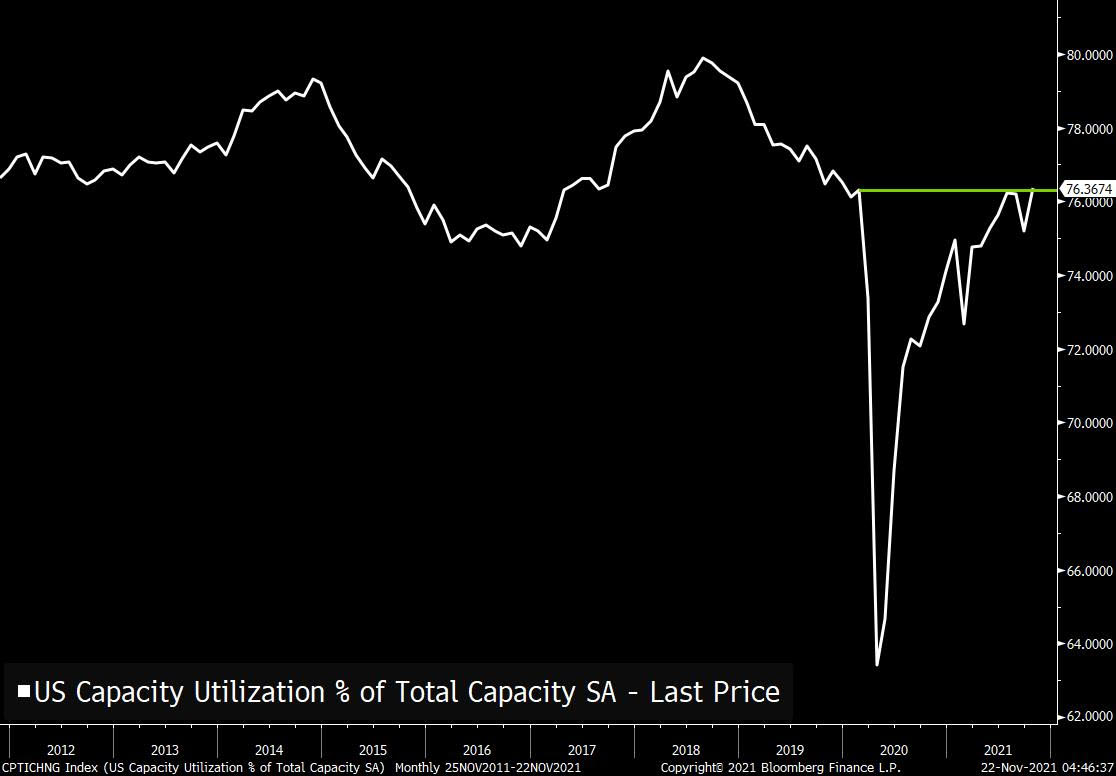 3. Bond vigilantes still MIA. As MMTers would anticipate, the spending boom and the major Fed balance sheet expansion have not dented the stability of the dollar or Treasuries. The 10-year yield is at just 1.56%, despite the Fed having announced plans to wind down asset purchases. And the dollar index is at its highest level of the year.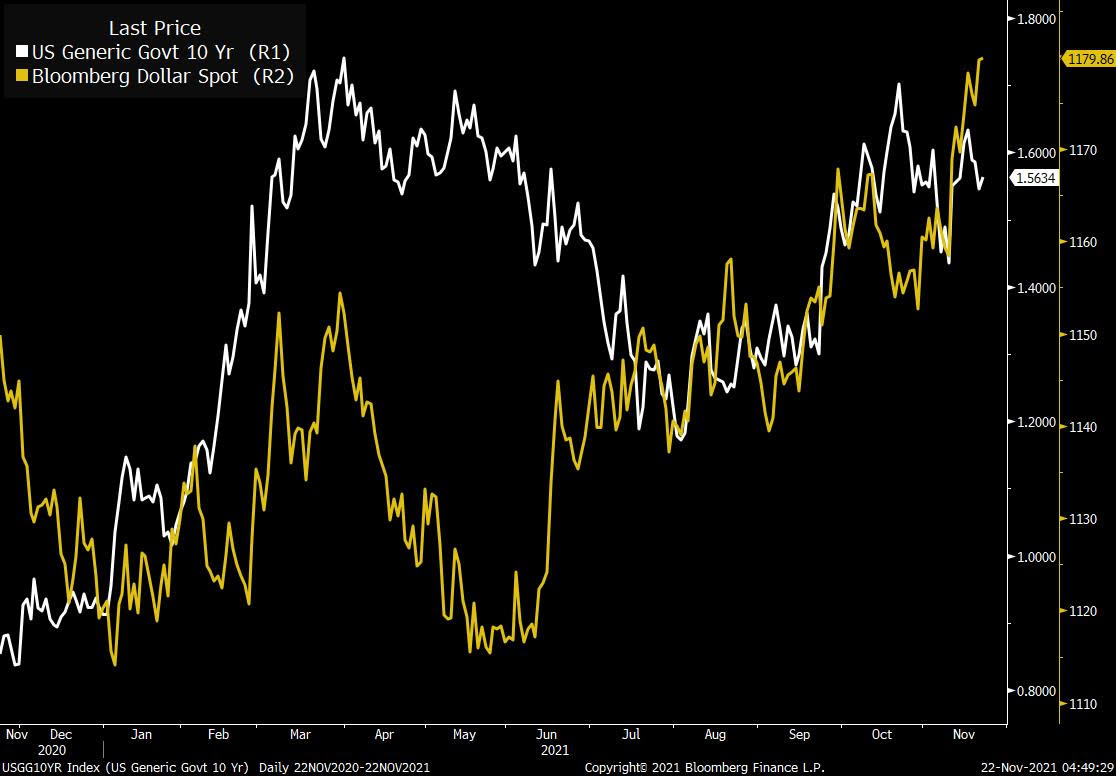 And before anyone says anything about "exorbitant privilege", here's a look at long-term 10-year yield charts for the U.K., Australia, and Italy.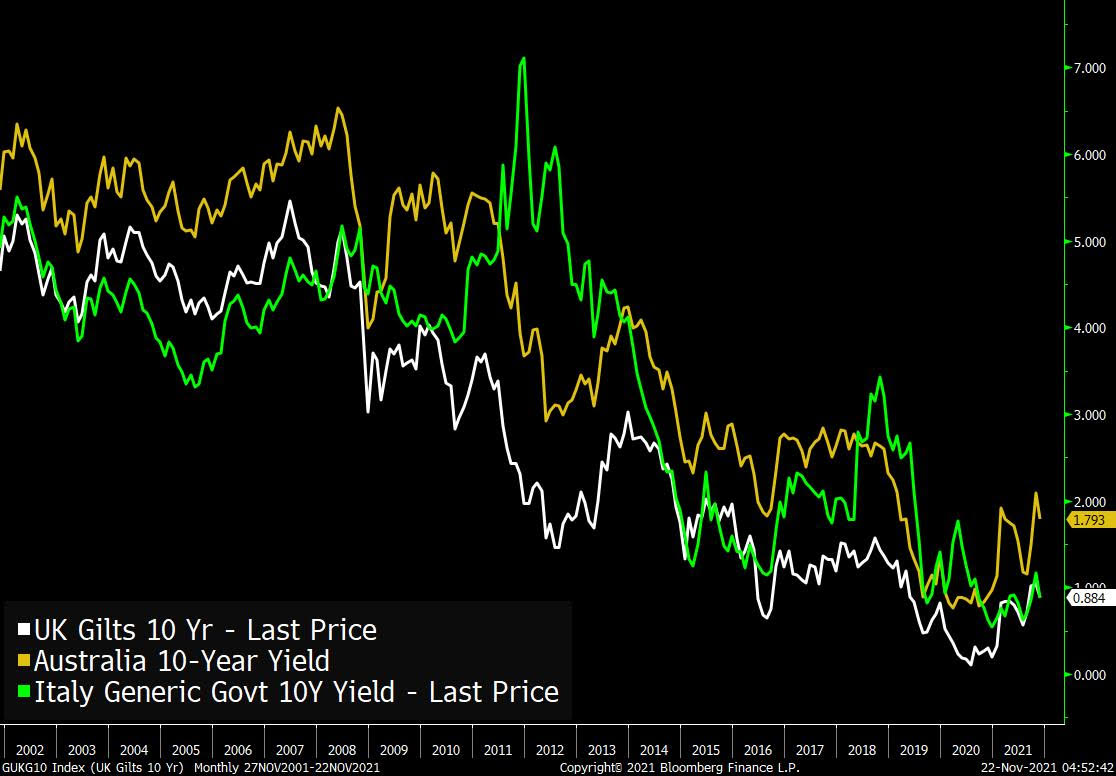 4. You can't win playing by the CBO's rules. This is more a political point than an economics one per se, but one of the arguments made by its proponents is that the deck is stacked against fiscal expansion, by arbitrary "scores" (by the likes of the CBO) that establish whether a spending plan adds to the deficit or not. Given the contortions that the Democrats have made to satisfy its members in the Senate, while also aiming to get a good score by the CBO (not add to the deficit too much), this is another point of vindication.
PS: Obviously, elevated inflation has caused a drop in people's perceptions of the economy. And it's possible that this will sour consumer spending plans in the future. So that's potentially something to be reckoned with. But for one thing, it seems awfully premature to look at random polls in November 2021 and pronounce anything big about how the future will go. And regardless, a number of core MMT concepts have been empirically vindicated over the last year and a half or so.
Follow Bloomberg's Joe Weisenthal on Twitter katanaTheStalwart.
Like Bloomberg's Five Things? Subscribe for unlimited access to trusted, data-based journalism in 120 countries around the world and gain expert analysis from exclusive daily newsletters, The Bloomberg Open and The Bloomberg Close.
Before it's here, it's on the Bloomberg Terminal. Find out more about how the Terminal delivers information and analysis that financial professionals can't find anywhere else. Learn more.
-------- You also should read more news below: ----- [arpw limit="10" post_type="post" post_status="publish" thumbnail="false" thumbnail_size="arpw-thumbnail" excerpt="true" excerpt_length="2000" ]