Fed speculation reaches fever pitch, Biden's legislative battle continues, and Europe locks down. 
The world wants to know who is going to lead the Federal Reserve from February next year, and everyone has an opinion on it. Democratic Senator Joe Manchin is looking to meet with Fed Governor Lael Brainard and have a follow-up conversation with current Chair Jerome Powell, according to a person familiar with the matter. President Joe Biden is expected to announce a Fed decision before the Thanksgiving holiday. Senate Banking Committee Chairman Sherrod Brown said this week he has no doubt the Senate would confirm either Powell or Brainard, the two frontrunners. Either decision could provide a narrow window of opportunity for traders in rates and foreign-exchange markets, even if reaction to the news is short-lived. Meanwhile, the Very Important Pundits are hating on Fed policy as inflation breaks loose, yet the smart, legacy-building move could be holding steady in order to maximize employment. 
Biden's landmark economic plan was delayed after an intervention from Republican House leader Kevin McCarthy. Democrats are now pushing for passage of the $1.64 trillion economic agenda today, with the Congressional Budget Office estimating the bill would add $367 billion to the federal budget deficit over the next decade. While that's a drop in the debt-filled ocean, it provides political ammo to detractors who say the bill fails to pay for itself, contrary to claims made by the White House. It also looks like several House moderate Democrats are ready to vote for the package. Meanwhile, the debt ceiling is focusing minds, with Senate Majority Leader Chuck Schumer and Minority Leader Mitch McConnell meeting Thursday to discuss the mid-December deadline.
The latest surge in Covid-19 infections is causing drastic measures in Europe. Austria will enter a nationwide lockdown from Monday as a record virus spike threatens to overwhelm the country's health care system. Germany's crisis is getting worse, setting up restrictions on Christmas gatherings, while Hungary recorded its highest level of cases. In the U.S., the outbreak is on the rise again and shifting to the Midwest, according to the latest data from the Centers for Disease Control and Prevention. Meanwhile, a Wuhan wet market has reemerged as the likely origin of Covid-19 after research showed the first identified case developed symptoms later than initially reported.
A fresh pandemic wave in Europe is testing risk bulls. Asian equities clung to the green, with the Topix index closing up 0.4%. In Europe the Stoxx 600 Index was fluctuating between losses and gains in a volatile session, with banks leading the retreat as of 6:20 a.m. Eastern time. S&P 500 futures were lower, the 10-year Treasury yield slid toward 1.5% and gold was flat.  
It's a relatively quiet day on the data front. Canadian retail sales for September are due at 8:30 a.m. and the latest Baker Hughes rig count is expected at 1 p.m. Fed speakers include Richard Clarida and Chris Waller. Foot Locker Inc. is among companies reporting today.
Here's what caught our eye over the last 24 hours.
And finally, here's what Katie's interested in this morning
Distressed debt — it's very 2009, honestly. And very negative — distressed is right there in the name! And not to mention, there's not much distress in corporate bond markets right now. The default rate for speculative-grade debt was 2.4% in September, according to S&P Global Ratings. Meanwhile, overall corporate defaults in the U.S. have declined 73% so far in 2021 from a similar period last year, the rating firm said on Nov. 5.
Given that the strategy's bread-and-butter is buying heavily-discounted debt at struggling companies and either holding the debt through a rally or participating in a restructuring, it's been tough sledding. 
But every day is an opportunity, and the beauty of being human is that we can constantly reinvent ourselves. That's what distressed debt portfolio managers are doing — rebranding.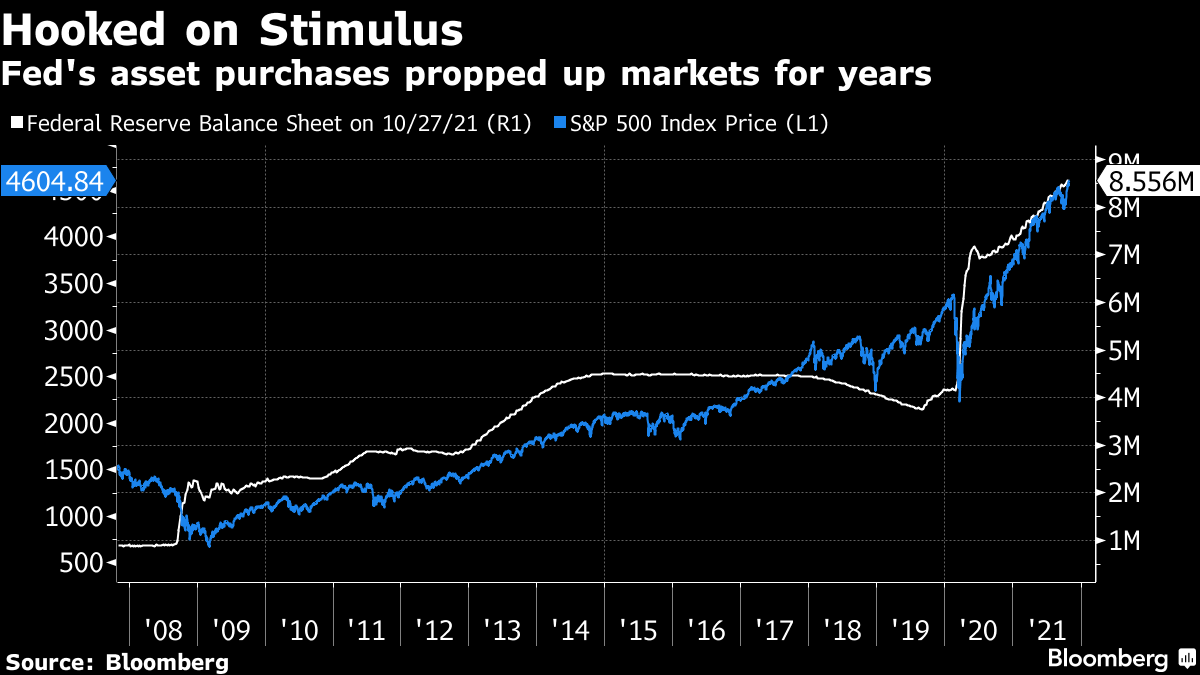 Just this week, Oaktree Capital Management unveiled a $16 billion credit fund — a record size for the distressed-debt firm — dedicated to "global opportunities." Starwood last month closed a record $10 billion distressed fund that seeks "opportunistic real estate" investments. And Blackstone Inc., the biggest alternative investor, downplayed the scale of potential distressed investing in its third-quarter 2020 earnings. 
"We're going to try to make people 15%," Oaktree co-founder Howard Marks said of the new fund on Wednesday during a talk held by the Fixed Income Analysts Society. Just for context, the S&P 500 is up 25% so far this year. 
Of course, it's easy to blame the Fed here. Policy makers blanketed the financial system with liquidity during the height of the pandemic-driven turmoil, going as far to directly buy corporate bonds – a step the U.S. central bank has never taken before. While Marks said as recently as last month that one can't argue that the interventions weren't necessary, he wants to see an economy that does its "own thing."
Marks may get his wish soon. The Fed is scaling back its bond buying program, a process that's expected to wrap up by mid-2022. A handful of rate hikes are expected by traders in the months that file. 
In the mean time, private credit is attracting a lot of attention. The sector is booming, given that it gives risk-hungry investors an avenue to find the yields they crave largely through direct loans to smaller companies that lack broad market access. Private debt firms have raised over $150 billion in 2021, according to Preqin. 
Follow Bloomberg's Katie Greifeld on Twitter at katanakgreifeld
Like Bloomberg's Five Things? Subscribe for unlimited access to trusted, data-based journalism in 120 countries around the world and gain expert analysis from exclusive daily newsletters, The Bloomberg Open and The Bloomberg Close.
Before it's here, it's on the Bloomberg Terminal. Find out more about how the Terminal delivers information and analysis that financial professionals can't find anywhere else. Learn more.
-------- You also should read more news below: ----- [arpw limit="10" post_type="post" post_status="publish" thumbnail="false" thumbnail_size="arpw-thumbnail" excerpt="true" excerpt_length="2000" ]