Chilly omens as US, Russia meet in Europe 

Don't expect much from this week's talks in Europe at the worst point in US-Russia relations since the Cold War. Neither side is hopeful. 
Lowering expectations is one thing. But it would be a major surprise if there's a breakthrough to ease fears over a Russian troop buildup near Ukraine amid the West's warnings President Vladimir Putin could invade.
"It's hard to see making actual progress, as opposed to talking, in an atmosphere of escalation with a gun to Ukraine's head," US Secretary of State Antony Blinken told CNN on Sunday.
Russia's deputy foreign minister was equally as downbeat. Sergei Ryabkov said he was "disappointed" by signals from Washington and Brussels. "In short, they reflect a lack of understanding of what we need," he said before laying out a wish list the West will never accept. "We need legal guarantees, legal guarantees that NATO will not expand further, eliminate everything that the alliance has created, driven by anti-Russian phobias and all sorts of false ideas about what is the essence of Russian policy for the period since 1997."
The comment underscored that while the current flashpoint is Ukraine, Putin is holding the former Soviet state hostage to a wider goal — rolling back NATO's expansion into former Warsaw Pact nations to create an opening to reassert Russian influence in Eastern Europe. One senior US official said Saturday: "It is not up to Russia, for example, to decide for other countries who they can to be allies with." 
US Deputy Secretary of State Wendy Sherman was expected to open talks in Geneva on Sunday night with Ryabkov, before a more formal discussion on Monday. The NATO-Russia Council meets in Brussels on Wednesday. On Thursday, the Vienna-based Organization for Security and Cooperation in Europe (OSCE), which includes both the US and Russia, discusses Ukraine. 
There's a glimmer of hope for a face-saving US-Russia deal on Kremlin demands to prohibit Western offensive missiles in Ukraine — since NATO says no such deployments are in the cards. But on Putin's call to remove troops and weapons from nations once in Moscow's orbit, the West isn't budging. 
So Ukraine's fate is hanging in the balance. 


'Aggression will not be accepted'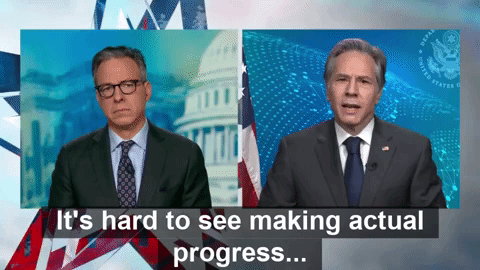 "There are large principles at stake that go to the fundamentals of international peace and security," Blinken (above) said on CNN's "State of the Union" on Sunday when looking ahead to talks with Russia this week. He said the US and its international partners would "make it clear to Russia that this aggression will not be accepted, will not be tolerated." 
"It's also not about making concessions. It's about seeing whether, in the context of dialogue and diplomacy, there are things that both sides, all sides can do to reduce tensions," Blinken said.
A conservative turn on Covid 

The new conservative majority on the Supreme Court appears poised to impose yet another stamp on American life, this time with major implications for the fight against the pandemic.  
The court, set to dole out right-wing jurisprudence for years following ex-President Donald Trump's three appointments, is already setting about weakening abortion rights. Now, it could reject one of President Joe Biden's top weapons in battling Covid-19 — vaccine and testing requirements for large businesses.  
Extrapolating likely judgments from questions asked by justices at hearings
is usually unwise. But when the court heard a challenge from Republican-run states to the mandates on Friday, a clear ideological split emerged. The three justices appointed by Democratic presidents appeared supportive of the administration's strategy. But conservative justices questioned whether the government overstepped its power in requiring such measures in the workplace. Several wondered whether such action was permissible without the authorization of Congress. The arguments mirrored a national split between liberals — generally more open to Covid-19 mitigation measures — and conservatives who perceive them as affronts to quintessential American individualism.  
The struggle with the ubiquitous Omicron variant was underscored when liberal Justice Sonia Sotomayor, who has diabetes, heard arguments remotely from her chambers. She normally sits next to Justice Neil Gorsuch, a Trump appointee who was the only justice in the chamber Friday not wearing a mask, CNN's Supreme Court reporter Ariane de Vogue noted. 
A decision is expected within days, along with a ruling on another related issue — examining whether Biden can require health care workers at facilities that receive federal money to get vaccinated. Supreme Court pundits believe that second case is more likely to go the President's way. 
Thanks for reading.
On Monday, US Deputy Secretary of State Wendy Sherman and Russian Deputy Foreign Minister Sergei Ryabkov hold security talks in Geneva. NATO Secretary-General Jens Stoltenberg and Ukrainian Deputy Foreign Minister Olga Stefanishyna hold a news conference before meeting in Brussels. Kazakhstan holds a day of national mourning for the victims of recent violent protests. 
 View in browser  |  All CNN Newsletters
Want to easily manage your newsletter subscriptions?
Copyright ©  2022 Cable News Network, Inc. A WarnerMedia Company, All rights reserved.
Our mailing address is:
Cable News Network, Inc. A WarnerMedia Company
1 CNN Center NW
Atlanta, GA 30303-2762
Want to change how you receive these emails?
You can u from this list.