American wolves and the Russian bear 

An age-old clash between Man and wolf is stirring in the American wilderness. 
A spate of wolf attacks on livestock in Colorado is previewing a wider confrontation between ranchers and conservationists over the broadening effort to reintroduce wild wolf packs into lands from which they were eradicated by hunting. 
Now, federal officials have authorized livestock owners in the Centennial State to use hazing tactics to scare away wolves, which include guards, flags, dogs, chasing the predators in trucks or even using rubber bullets to protect their cattle. But ranchers are still not allowed to shoot the wolves, a protected species in Colorado. Unauthorized killings risk a $100,000 fine and/or prison. 
The latest episode in this perennial struggle was triggered by the killing of several cattle by a wolf pack that naturally migrated into the state from Wyoming. Wolves were re-introduced into Yellowstone National Park, mostly located in Wyoming, in the 1990s, and the population is no longer listed as endangered in the state or in Montana and Idaho, according to the National Park Service. Ranchers in those three states are now permitted to kill wolves if they are menacing their cattle. But since wolves are still considered endangered in Colorado, ranchers cannot follow suit. Compensation is available for cattle losses but ranchers argue that hazing is not effective in keeping their livestock safe from wolves, especially at night. 
More controversy is to come. Gray wolves were wiped out by hunting and poisoning in the 1940s but Coloradans voted in 2020 to reintroduce them onto the state's Western slope. Advocates say restoring gray wolf packs restores vital ecosystems. When wolves prey on elk and bison, the carcasses, for instance, also sustain other species including smaller predators, rodents and birds of prey.  
But elsewhere in the US, humans are getting the upper hand over wolves. The Trump administration, which had a constituency among rural voters and hunters, removed wolves from the federal endangered species list. This led to a cull in Wisconsin that killed more than 200 wolves, prompting state officials to call a halt after hunters quickly blew through quota limits. 


'A very talented statesman'

Former US Secretary of State Mike Pompeo is warning that the United States must not underestimate Russian President Vladimir Putin as the standoff over Ukraine escalates.
Pompeo, also a former CIA chief and possible 2024 Republican presidential candidate, said: "(Putin) is a very talented statesman. He has lots of gifts. He was a KGB agent for goodness sakes. He knows how to use power. We should respect that." Pompeo also told Fox that the Russian leader would never have attempted to threaten another nation during the Trump administration, which he said had won Putin's "respect."
While it's true that ex-President Donald Trump provided lethal arms to Kyiv and did get NATO members to invest more in their militaries, the idea that he cowed Putin into inaction requires a massive pinch of salt. Russia didn't need to undermine NATO during the previous administration because the ex-President did it himself, frequently feuding with alliance leaders. Trump saw the bloc more as a protection racket than a bulwark of democracy, the rule of law and Western values that kept the peace in Europe for decades.
Often, Trump's foreign policy approaches also served Russia's goals, for instance in Syria and when he trashed US intelligence agency assessments that Moscow intervened in the US election in 2016 to help him while standing side-by-side with Putin in Helsinki. And of course, Trump was impeached for interfering in Ukrainian politics in a gross abuse of power in a bid to damage Joe Biden in what was a distinctly Putinesque maneuver. In effect, Trump, because of his hero worship of Putin, helped the Russian leader cover up an attack on America's sovereignty and democracy.
Pompeo's comments were an indication of the hyper-politicization of the standoff with Russia in the United States. On the face of it, the clash is a classic great power confrontation between East and West. But it's becoming clear that the current US President's approach is being driven by politics as well as he struggles to stabilize a presidency that is taking on water. Under attack by Republicans for being out of touch and weak, Biden cannot afford to cede to Putin's demands for political reasons as well as strategic ones. He's already been accused of appeasement.
Repeated US warnings from the US that Russia is on the brink of an invasion — Biden said last week he thinks it will happen — could be on the level. But a cynic might argue that they are also designed to prepare the US public and make clear the White House was not caught by surprise. And of course, if Putin finds a way to engineer a face-saving exit for himself from the crisis that stops short of an invasion, Biden can say it was his tough talk that forced the "very talented statesman" to back down.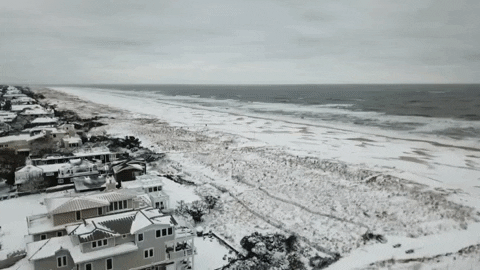 Snow and ice cloak Virginia Beach after a frigid Atlantic storm brought a winter cold snap to southern states. (WTKR)
Thanks for reading.
On Monday, Biden returns to the White House after spending the weekend at Camp David. The EU Foreign Affairs Council meets in Brussels with US Secretary of State Antony Blinken joining the meeting virtually. The SpaceX Dragon spacecraft will reenter Earth's atmosphere, splashing down off the coast of Florida. 
 View in browser  |  All CNN Newsletters
Want to easily manage your newsletter subscriptions?
Copyright ©  2022 Cable News Network, Inc. A WarnerMedia Company, All rights reserved.
Our mailing address is:
Cable News Network, Inc. A WarnerMedia Company
1 CNN Center NW
Atlanta, GA 30303-2762
Want to change how you receive these emails?
You can u from this list.