By Linda Poon
What does it take to be a climate-friendly mayor, and at what cost?
It's a question my colleague Laura Bliss and I posed this week in Bloomberg CityLab's new choose-your-own-climate-policy game. As the newly-minted mayor of the college city Smogtown, players have to make tough choices to tackle issues like traffic congestion and inefficient buildings — while also considering how each decision affects their chance of re-election. And the most ideal policies for the environment may not be the most popular.
The ultimate goal: to reach net-zero carbon emissions.
Smogtown may be fictional. But its problems and aspirations mirror those of real cities everywhere amid increasingly dire warnings that the world is running out of time to limit global warming to just 1.5 degrees Celsius. In the agreement reached at the end of COP26, leaders from nearly 200 nations acknowledged that CO2 emissions must be cut by at least 45% by 2030 from 2010 levels, and reach net zero by around 2050.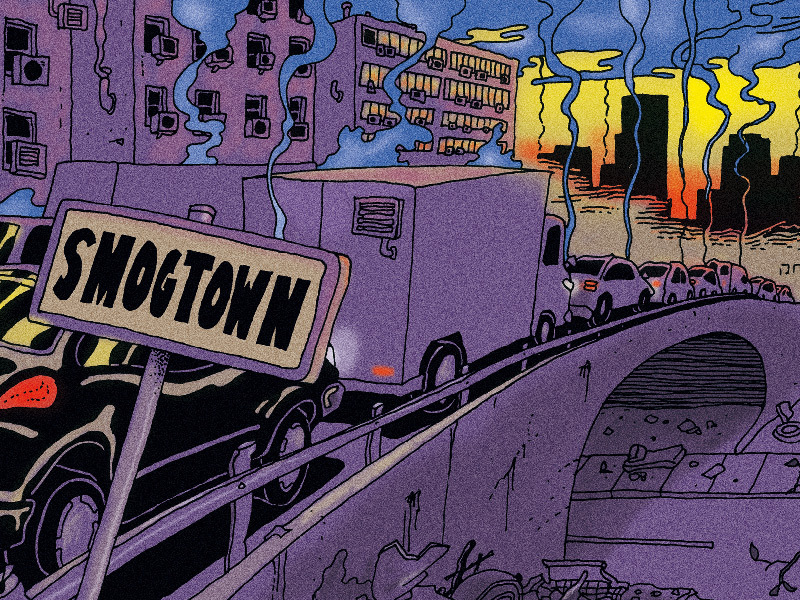 As Bloomberg reports, that would require "trillions of dollars of investment in clean energy and stronger restrictions of fossil-fuel activities." It calls for dramatic changes to the way we live, move and build. Sweeping reforms in the transportation and building sectors — two of the largest contributors to greenhouse gases — will be especially important in our rapidly growing cities, which already account for nearly two-thirds of all global emissions. That means the task falls not only to national leaders but to local governments, too. 
For our game, we borrowed solutions that are being used in real-world cities at the forefront of climate action: Universal basic mobility pilots in Bakersfield, California; stringent building regulations in New York City; and various open-streets initiatives across Paris, Barcelona and other European cities. 
One takeaway is that there is more than one way to tackle an issue, and that oftentimes, the bolder the move, the stronger the political pushback. Progressive policies also hit other roadblocks, including budget limitations, competing priorities, powerful lobbyists and — spoiler alert — mayoral term limits. 
Take the car bans that European cities, and even some in the U.S., have implemented in downtown areas and urban centers — some of which were fueled by Covid-era demands for more pedestrian-friendly streets. Madrid's 2018 car ban, one of the most comprehensive, was threatened when the city elected a new conservative mayor in 2019, who made repealing it a top priority, raising very real concerns among environmentalists that his efforts could spark a "chain of anti-green backlashes that would see car bans start to collapse across Europe," as Feargus O'Sullivan wrote at the time. The policy had survived amid broad popular appeal — until Spain's Supreme Court struck it down in May. 
In other cases, the solutions that are announced to great fanfare may not always prove fruitful to reaching the city's ultimate goal. Case in point: Trees indeed have the potential to capture carbon, but poorly planned campaigns are likely doomed to wilt. 
The challenge is no doubt formidable, even for a small city like Smogtown, but progress isn't out of reach. Choose wisely; stakes are high, and one wrong decision can mean the end of your political career.
Play the game: Can You Fix Smogtown?
Over the next three decades the U.S. will spend at least $1.5 billion to help shore up about 80 miles of Long Island waterfront as part of the ongoing Fire Island to Montauk Point project. What's happening on beaches in the Hamptons is merely the latest turn in an eight-decade drama between humans and nature—storm destruction and restoration, lobbying and lawsuits—that's creating one of the most ambitious running battles against climate change in U.S. history. It's an existential question: How long can, and should, governments deploy a mountain of cash against the implacable rise of warming seas?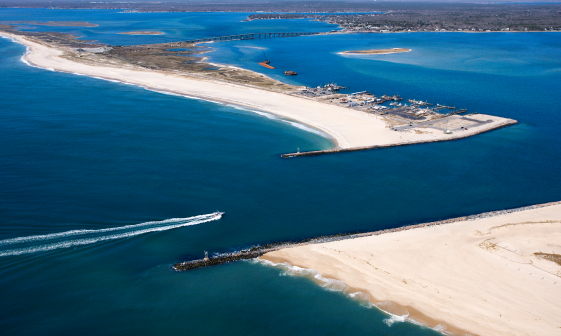 The Hamptons shoreline
If you're a Bloomberg Green subscriber and want to start getting the CityLab Daily newsletter, sign up here. If you're a Bloomberg CityLab subscriber and want to start getting our daily Green newsletter, sign up here.
-------- You also should read more news below: ----- [arpw limit="10" post_type="post" post_status="publish" thumbnail="false" thumbnail_size="arpw-thumbnail" excerpt="true" excerpt_length="2000" ]