'Did you get the booster?'

One man's vote, or rather the lack of it, has fateful implications for Earth's future. 
Democratic Sen. Joe Manchin's cratering of President Joe Biden's social spending and climate bill threatens to destroy restored US leadership in fighting global warming and further splinter faith abroad that America keeps its word. The measure contains $555 billion dollars in funding to transition the US from fossil fuels to other clean energy sources including wind and solar. It's the backbone of the Biden administration's pledges to cut US greenhouse gas emissions by 50-52% by 2030 compared to 2005 levels.  
But without Manchin's vote in a 50-50 Senate, there's no way to pass the bill into law. Republicans sure won't help as they seek to deny Biden a legacy-defining success, prioritize profit over the environment or simply lash climate science as trendy liberal fake news. Democratic congressional majorities are also at grave risk, meaning it's now or never for climate change bills.  
Biden could use his executive power to get some of the way toward US pledges if Manchin, who represents coal state West Virginia, doesn't have a change of heart. But another Republican president could come along and reverse executive actions with the sweep of a pen. Past and possibly future President Donald Trump, for instance, still insists global warming is a hoax and wants to pump out every last drop of US oil. Trump's level of understanding on these issues is rudimentary. He moans that wind farms are ugly and hurt birds and complains government environmental rules have turned the country's once gushing shower faucets into mere dribbles. 
If the US can't live up to its promises, as one of the world's great polluters, there is less incentive for its competitors to make the tough political decisions to cut their own emissions. The fight against climate change could fizzle even as a spate of raging wildfires, floods and monster storms preview dangerous years ahead. 
"This is our last chance to prevent the most catastrophic effects of the climate crisis," Senate Finance Committee Chair Ron Wyden, an Oregon Democrat, said after Manchin detonated his bombshell on Sunday. But the West Virginian is standing firm, and doesn't just have the power to define Biden's presidency: He might also have the fate of the whole world in his hands.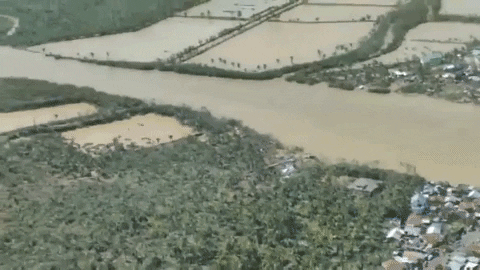 The Philippine Coast Guard captured aerial shots on Friday of the devastation in Surigao del Norte from Super Typhoon Rai.  
At least 208 people have died, about 52 remain missing and at least 239 have suffered injuries in the Philippines in the storm.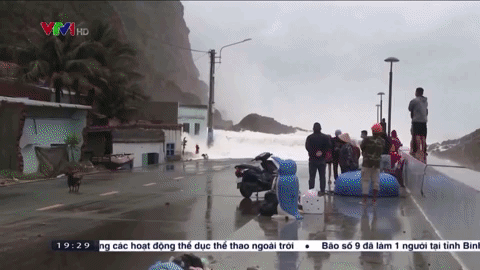 The super typhoon now targets Vietnam, where heavy rain and strong winds have already forced the evacuation of thousands of people along the coastline. (VTV)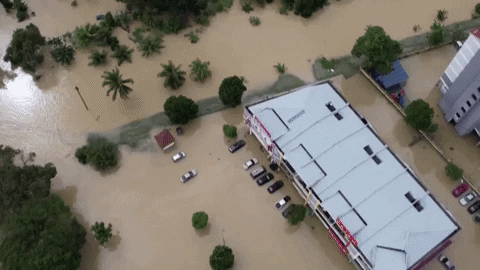 Drone footage shot on Sunday shows buildings partially submerged and vehicles trapped on roads in Shah Alam, Malaysia, after floods triggered by torrential rain displaced more than 41,000 people.

'Did you get the booster?'

Talking of Trump, he just endured the odd experience of being booed by his biggest fans. The ex-President has been touring with former Fox News host Bill O'Reilly for a series of paid events in what are reportedly less than full sports arenas. He triggered the ire of his faithful by owning up to the conservative transgression of actually getting a Covid-19 booster shot that could save his life. "Both the President and I are vaxxed," O'Reilly said, according to footage tweeted out by his "No Spin News." The anchor then asks Trump, "Did you get the booster?"   
"Yes," Trump said, drawing scattered boos in the audience. "Don't, don't, don't, don't, don't," Trump said in the video, shushing the dissenters. "That's all right, it's a very tiny group over there."  


President Biden has a stark warning for the unvaccinated – that Omicron could put them in the hospital or the grave. But are the people he needs to hear him even listening?  
CNN's Kate Sullivan writes for Meanwhile that a Biden speech on Tuesday is a huge moment for a president whose success depends on ending the pandemic – but who has been thwarted by a mutating virus and the political divides it widened. Biden is expected to announce new steps to take on Covid-19 and to issue a "stark warning of what the winter will look like for Americans who choose to remain unvaccinated," according to the White House.   
But it's unclear exactly what the President could say to change the minds of the tens of millions of Americans who still refuse to get vaccinated nearly a year after vaccines first become available to some populations and nearly two years into the pandemic. Biden has been sharpening his messaging toward those yet to get their shots over the past few months and has imposed aggressive new vaccine mandates. He declared in September, "We've been patient, but our patience is wearing thin." But still, only about 65% of the eligible US population is fully vaccinated despite plentiful supplies. 
These holdouts, egged on by conservative media and Biden's GOP opponents, present an enormous challenge. So, Biden's top health advisers urged him to lay out in very clear terms the differences in expected outcomes between the vaccinated and unvaccinated when Covid-19 strikes, with the Omicron winter still to come. "We are looking at a winter of severe illness and death for the unvaccinated — for themselves, their families and the hospitals they'll soon overwhelm," the President warned last week. "But there's good news: If you're vaccinated and you had your booster shot, you're protected from severe illness and death — period."  
More changes could be on the way. CNN reports that some of Biden's advisers want the administration to begin discussing publicly how to live alongside a pathogen that shows no signs of disappearing, reshaping messaging that previously stressed "freedom from the virus." Officials are also debating how to shift public attention from the total number of cases, which includes many that are mild and asymptomatic, toward the number of severe infections that are overwhelming hospitals.
 View in browser  |  All CNN Newsletters
Want to easily manage your newsletter subscriptions?
Copyright ©  2021 Cable News Network, Inc. A WarnerMedia Company, All rights reserved.
Our mailing address is:
Cable News Network, Inc. A WarnerMedia Company
1 CNN Center NW
Atlanta, GA 30303-2762
Want to change how you receive these emails?
You can u from this list.