As I was looking through stories this week, a series of paintings by artist Stephen Wong stopped me in my tracks. Wong renders the landscape in his native Hong Kong in groovy lines and bright, eye-popping color. He explains that he wants to capture the whole feeling of being in a place, not just the visual reality. This struck me for two reasons: One, I am a sucker for color. Two, it got me thinking about how hard it is to fully capture a moment of wonder. For example, last weekend, my husband and I hiked to Sassafras Falls in North Carolina's Nantahala National Forest. Sitting on the crest, we took it all in: The crisp smell of the water, the ancient rocks worn smooth under its force; the first green shimmers of spring growth. You can try to describe such a scene piece by piece, but there's something brighter in the sum of it all. A neon memory if you will, vivid and distinct, glowing long after the moment has passed.
Wong's interpretation of a portion of Hong Kong's MacLehose Trail. Credit: Courtesy Bonhams
If there's something you'd like to see here, drop us a line. Know someone who could use a little Good Stuff? Send them a copy! We hope you love it as much as we do.
Our favorites this week
Get going with some of our most popular good news stories of the week

Elephant breakfast
When pandemic supply chain issues dried up the flow of baby formula for orphaned elephants at the Reteti Elephant Sanctuary in northern Kenya, the sanctuary's staff knew the solution was right in their own backyard. They started to feed the elephant babies goats milk from local herds, and the results were beyond encouraging. Not only have survival rates improved for its youngest and most vulnerable elephants, but the community around the sanctuary is prospering, too. All of that money that would leave the area to pay for formula is now going to the "milk mamas" — the local women who own the goat milk. It's no wonder Reteti is such a remarkable place: It's also the first elephant orphanage in Africa to be owned and run by members of the local community. Read more on the sanctuary — and see more elephant pics — from CNN Photo.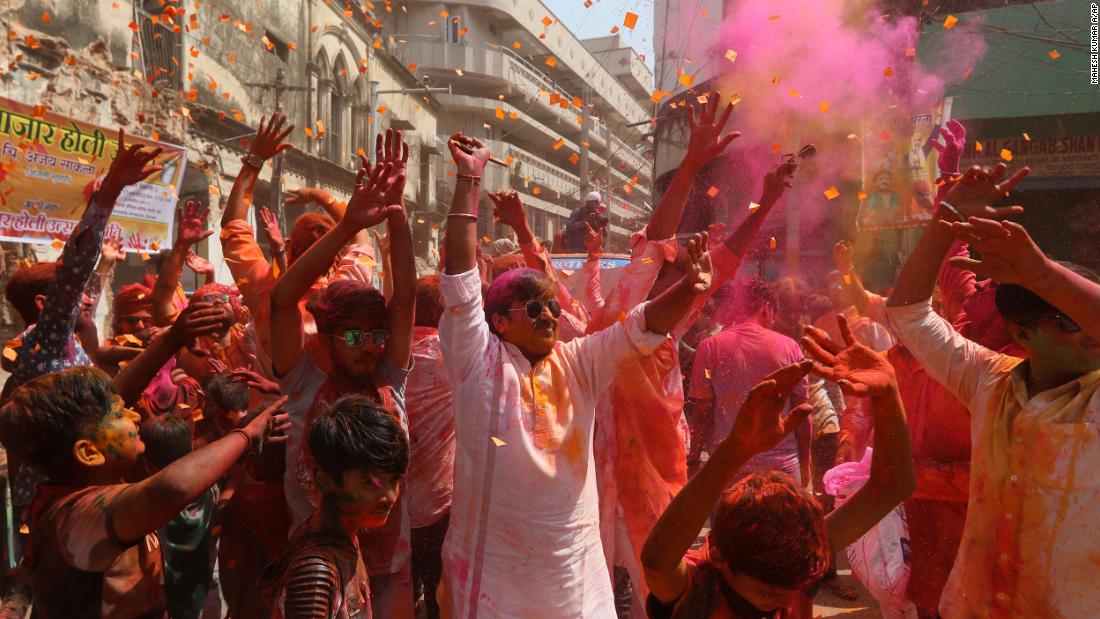 Happy Holi!
On Friday, people across the Indian subcontinent celebrated the joyous festival of Holi. The Hindu holiday welcomes in springtime with clouds of color and ancient legends of love and goodness. The colored chalk that makes Holi so iconic is actually key to one of its legends. British Museum curator Sushma Jansari explains: In Hindu mythology, the deity Krishna was worried that his beloved Radha would be turned off by his unnatural blue skin. At the playful suggestion of his mother, Krishna smeared colored powder on Radha's face. And wouldn't you know it, she fell in love with him! Now, street market vendors offer a whole rainbow of powders so people can follow in the lovers' footsteps.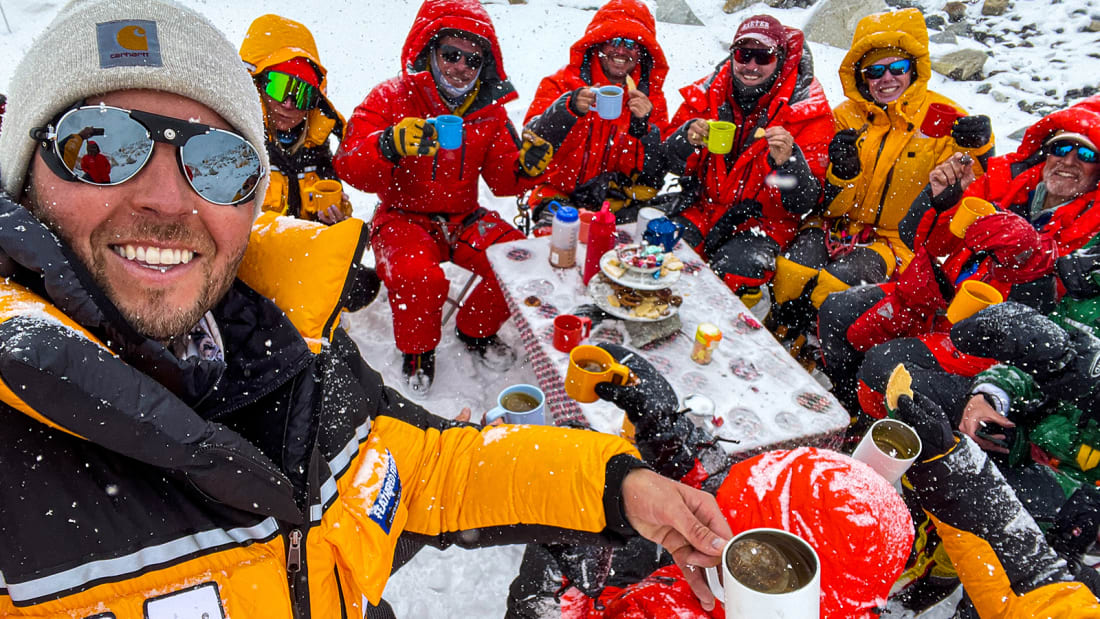 High tea
Ah, who wouldn't enjoy a nice warm cup of tea tens of thousands of feet up the world's tallest peak? This group of Mount Everest climbers have now participated in the world's highest tea party, according to Guinness World Records who just officially recognized the feat. (Yes, there truly is a record for everything!) The event took place on May 5, 2021, and was organized by Seattle climber Andrew Hughes. He got the idea during the pandemic when shutdowns made expeditions impossible. Hughes realized he missed the community of adventurers more than the climbing part. "The greatest things in life are often those shared," he explains. When things opened up, he and a group of climbers lugged all the supplies, including Girl Scout cookies and plenty of mugs, up a portion of Everest to roughly 21,312 feet above sea level before tucking in.
Sponsor Content by GetYourGuide
Escape Las Vegas with 6 unforgettable day trips to nature
Vegas is only a stone's throw away from some of the most majestic outdoor adventure destinations in the world. Take a break from the dazzling lights and see the region's natural wonders with GetYourGuide. Find out more.

Francis Kéré, the first African architect to win the illustrious Pritzker Prize, often called the "Nobel of architecture." Though the 56-year-old from Burkina Faso has designed large-scale campuses, two national parliaments and other stunning buildings, his design philosophy is most potent in his"smaller" projects — schools, health centers, community centers and the like. A lot of Kéré's work exemplifies "vernacular" architecture, a term used to describe designs that directly respond to local climates, materials and building traditions. Through his work, he's been able to transform communities across Africa.
More elephants this week? What a treat! Although, not as sumptuous a treat as the giant pile of fruit that was laid out for Thailand's annual Elephant Day. About 60 elephants were on hand to enjoy this spread of bananas, melons and pineapples at the Nong Nooch Tropical Garden this week. Elephants are a source of national pride and cultural identity for Thailand and have been used for labor, transport, and battlefield triumphs of yore. 
Our human compassion binds us one to the other – not in pity or patronizingly, but as human beings who have learnt how to turn our common suffering into hope for the future.
– Nelson Mandela
The Chicago River ran green this week, as it has every St. Patrick's Day for the last 60 years. How did the tradition start? In the 1960s, Chicago city workers used a bright green dye to identify leaks in pipes. In 1962, members of the Chicago Journeymen Plumbers Local Union who were feeling festive dumped 100 pounds of that dye into the Chicago River, which turned it green for an entire week. They eventually switched to a gentler dye formula, made from vegetables, and now the dye lasts for a few hours, not a few days.
Since the beginning of the heart-rending crisis in Ukraine, CNN's audience has contributed more than $5.9 million to humanitarian relief work, according to Public Good, an online donation platform that partners with CNN. Google also says searches about how to help Ukrainians are spiking, with some common questions coming up: "How can I help?" "Are Ukrainian refugees coming to the US?" Here is an FAQ based on those questions, along with some more info on how to help refugees from other areas of the world who are suffering the same danger and displacement. 
Rec of the week
Brought to you by CNN Underscored
The best silk pillowcases of 2022Nothing says luxury quite like upgrading to a silk pillowcase. They're lavish to the touch and can leave your hair looking silky smooth come morning. The Underscored editors tested out over a dozen products to see which ones are worth the splurge. Keep reading to see which pillowcases earned top marks.
Shameless animal video
There's always time for cute animal videos. That time is now.
Thank you to the anonymous Good Stuff reader who urgently contacted me this week regarding this important guinea pig video. You are an individual of fine taste. Watching guinea pigs trot en masse across a field like a bushel of possessed potatoes was the highlight of my day. (Click here to view)
A newsletter for the good in life
All CNN Newsletters  |  Manage Your Profile
Copyright © 2022 Cable News Network, Inc. A WarnerMedia Company, All rights reserved.
Our mailing address is:
Cable News Network, Inc.
1 CNN Center
Atlanta, GA 30303