Biden's voting reform call for the ages 

The question is whether American democracy is already so compromised that it is too late for it to save itself.
President Joe Biden on Tuesday sought to mobilize political pressure to pass two voting rights bills that Democrats say will reverse a nationwide trend of Republican voter-suppression laws built on Donald Trump's election fraud lies.
But he's got a big problem. Senate Republicans are unwilling to even debate the measures and are wielding a filibuster obstruction device that requires a 60-vote supermajority to pass major legislation. To bypass the blockage, Biden needs all 50 Democrats to agree to change the rules to push the bills through with a simple majority. But at least two in the Democratic caucus, Sens. Joe Manchin of West Virginia and Kyrsten Sinema of Arizona, won't budge.
 
The filibuster is mentioned nowhere in the Constitution. In days of yore, it was invoked sparingly. More recently, Republican and Democratic minorities used it automatically to constrain presidents from the other party. Manchin argues that the filibuster pushes the Senate toward compromise and produces legislation that can enjoy more legitimacy among the public. But his critics accuse the West Virginian of living in some idealized version of the past. Some other Democrats also privately worry that lifting the filibuster for these bills will cost them if a future Republican president is able to ram abortion bans and gutted gun-safety measures through the Senate in the same way. But most recognize the threat from GOP-led state laws that broadly make it harder to vote and easier to interfere in elections.
Republicans warn the Democratic bills will destroy the right of states to administer their own elections. But that charge is wallowing in hypocrisy. Senate Minority Leader Mitch McConnell, the Kentucky Republican who's now posing as the defender of the rules-based order, once got rid of the filibuster himself —for Supreme Court nominees — during a previous spell in the majority. And he effectively made up a rule to block President Barack Obama's last pick for the top bench. 
Biden, a senator for 36 years, publicly renounced his own skepticism about removing the filibuster in his big speech in Atlanta, the cradle of the civil rights movement. But it will count for nothing unless Manchin and Sinema get in line.
'How do you want to be remembered? 
"The question is, where will the institution of the United States Senate stand? Every senator — Democrat, Republican and independent — will have to declare where they stand not just for the moment, but for the ages," Biden asked at Clark Atlanta University.
"Will you stand against voter suppression? Yes or no? That's the question you'll answer. Will you stand against election subversion? Yes or no?" 
"There's one thing every senator, every American, should remember: History has never been kind to those who have sided with voter suppression over voters' rights. And it'll be even less kind for those who side with election subversion."
"So I ask every elected official in America: How do you want to be remembered?"



New Year, new VP relaunch?

Flush with an opportunistic spirit that comes with the start of a new year, the White House is taking another stab at a familiar effort: the relaunch of Vice President Kamala Harris, CNN's Devan Cole writes for Meanwhile.
During her first year in office, Harris suffered repeated political stumbles, drawing headlines for an unclear portfolio, a myriad of embarrassing moments and a striking number of staff exits. It seemed as though the White House was caught in a loop of trying and failing to present to the public a well-rounded No. 2 who could hold her own. And even within the first few days of 2022, it looks like we're seeing more of the same.
Harris joined Biden in Atlanta on Tuesday to sound the alarm on voting rights legislation, a trip that gave her the chance to deliver remarks on a key issue for the Democratic Party. But days earlier, she had again drawn controversy for her speech at the US Capitol on the one-year anniversary of the deadly January 6 insurrection. In a somewhat awkward moment, Harris likened the violent siege to the attack on Pearl Harbor that pushed the US into World War II and the September 11 terrorist attacks, which have long held a unique spot in American history.   
Adding to her problems, a day after her Capitol speech, Harris' new communications director had to issue an apology for decade-old tweets on "undocumented folks." The tweets might not have looked as bad if not for the fact that Harris leads the Biden administration's diplomatic efforts with the Northern Triangle countries in an effort to stem the flow of migrants at the US southern border.
Though the drama is small in the grand scheme of things, it's yet another headache for a vice president who has struggled with her press shop. After all, the new director, Jamal Simmons, is taking on the role after the previous director departed less than a year into the job, along with several other key aides.  
To be sure, Harris is not to blame for all of her woes. But she's responsible for a great deal of them. And as a top member of an administration seeking to make Washington work again, she's facing extra scrutiny, whether it's deserved or not.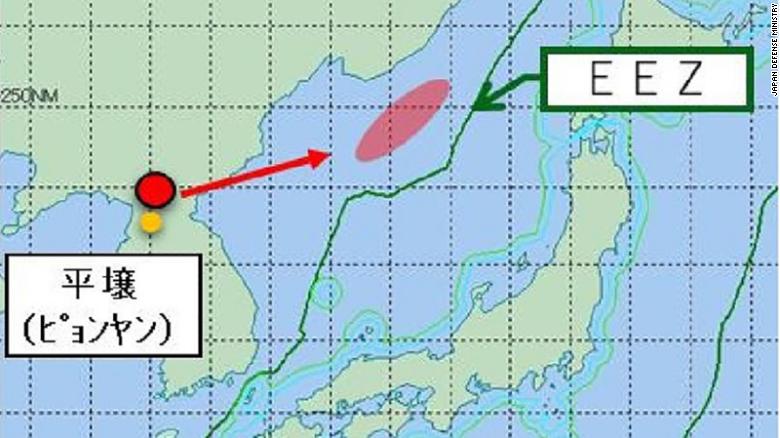 This won't do much to help West Coasters sleep.
The Federal Aviation Administration issued a ground stop order for some pilots on Monday even after the launch of a North Korean missile. Both US forces in South Korea and North American Aerospace Defense Command quickly established that the test firing wasn't a threat to the US mainland, so it's a bit of a mystery why it grounded planes for 15-20 minutes all the way across the Pacific.
The Biden administration says the ground stop was purely a precaution. But the drama underscores the growing threat to US security from Kim Jong Un's missile and nuclear program.
The map above, shared by Japan's Defense Ministry, shows the flight path of the projectile.
 View in browser  |  All CNN Newsletters
Want to easily manage your newsletter subscriptions?
Copyright ©  2022 Cable News Network, Inc. A WarnerMedia Company, All rights reserved.
Our mailing address is:
Cable News Network, Inc. A WarnerMedia Company
1 CNN Center NW
Atlanta, GA 30303-2762
Want to change how you receive these emails?
You can u from this list.