Dubai, heavily dependent on tourism and business events, was hit hard by the coronavirus. But its economy is now rebounding rapidly.
Footfall in restaurants, cafes, shopping malls and movie theaters started rising toward the end of September and October's hotel occupancy was at nearly 82%. That's a 60% increase compared with last year, and about 6% higher than 2019's like-for-like levels.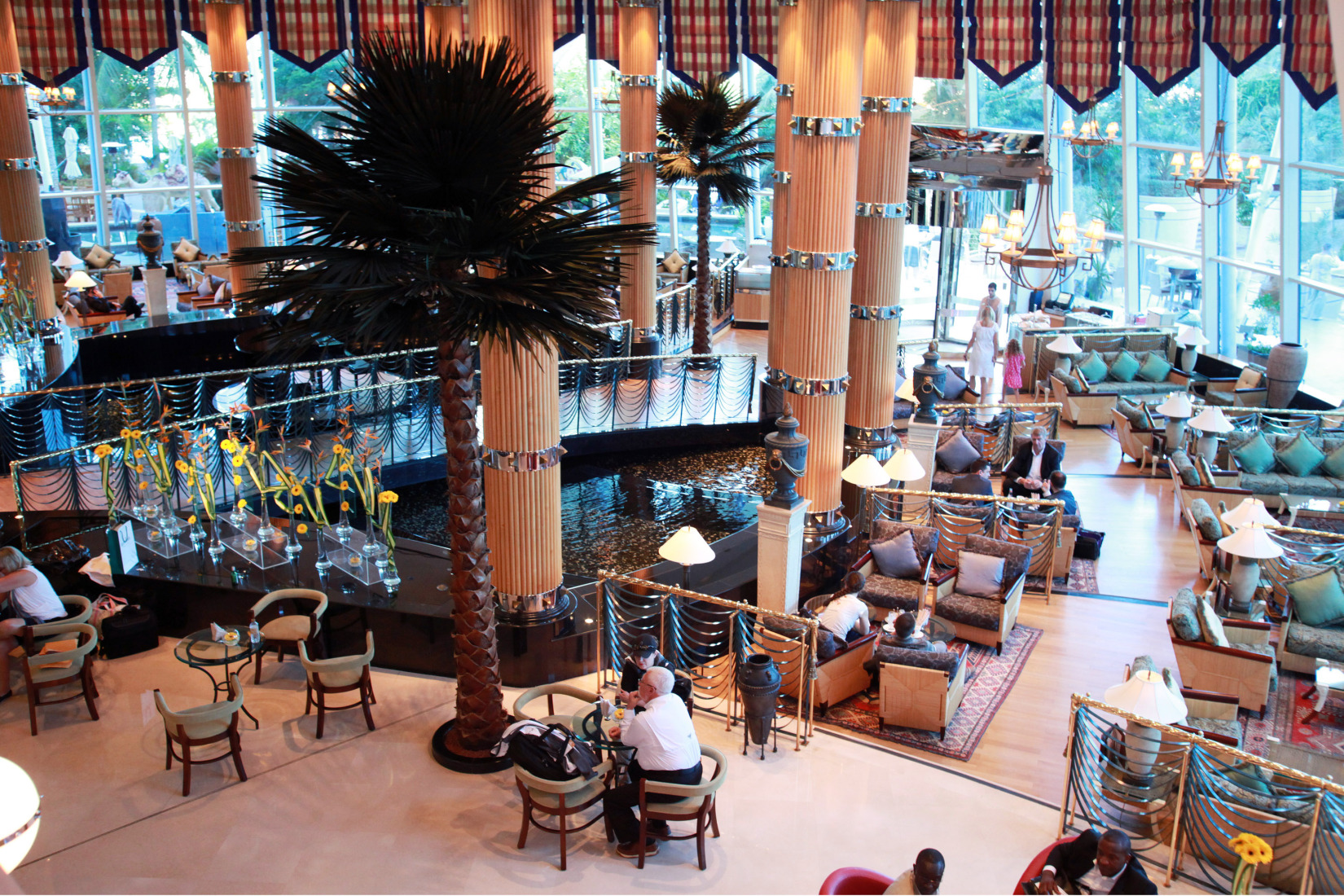 The lobby of the luxury Jumeirah Beach hotel.  Photographer: Gabriela Maj
The recovery is driven to a large extent by higher oil prices, the ebbs and flows of which impact Dubai's property market. 
The delayed Expo 2020, which finally opened its doors on Oct. 1, has also given the city a boost, as have events and conferences such as the Dubai Airshow and the Gastech forum for the natural-gas industry. 
The rally has been faster than expected, said Scott Livermore, chief economist for Oxford Economics Middle East in Dubai. He attributes part of Dubai's success to its avoidance of the Delta variant of the virus.
To maintain momentum, Dubai has offered foreign residents, who make up more than 90% of Dubai's population and have been the mainstay of its economy for decades, the option of receiving five-year entry permits.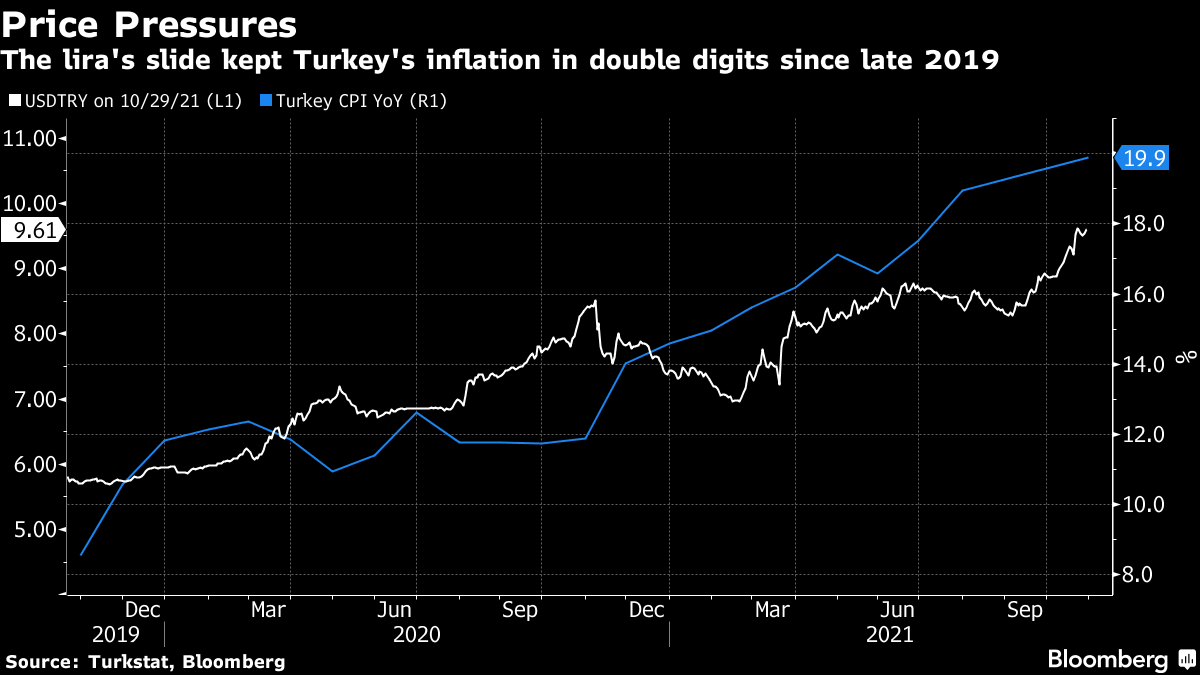 Turkey's central bank cut its key interest rate for a third consecutive month, heeding President Recep Tayyip Erdogan's renewed demands for cheaper borrowing even as the lira tumbles and the inflation outlook worsens.  The moves have rattled markets and frustrated investors, who complain monetary policy is increasingly erratic and unpredictable. 
The recent arrest in Turkey of two Israelis under suspicion they were spies is a reminder that the Israeli government catered to Ankara's sensitivities for too long, Zev Chafets writes for Bloomberg Opinion. Business between the countries should continue due to mutual interests and Israel can be grateful to Turkey for small favors. But Israel should do away with its policy of complicity in the cover-up of the Armenian genocide, he says.
An Abu Dhabi firm backed by Mubadala Investment Co. plans to start trials for the Middle East's first driverless ride-sharing service this month, aiming to eventually roll out the technology across the UAE. Group 42 will start with five cars on Yas Island, a popular entertainment destination in the UAE capital.
Saudi Arabia's stock exchange, on its way to becoming the hottest market for IPOs,  is seeking to raise as much as $1 billion in its own initial public offering. Dubai is rolling out an incentive program to attract share sales from the private sector and is considering selling shares in its flagship carrier, Emirates.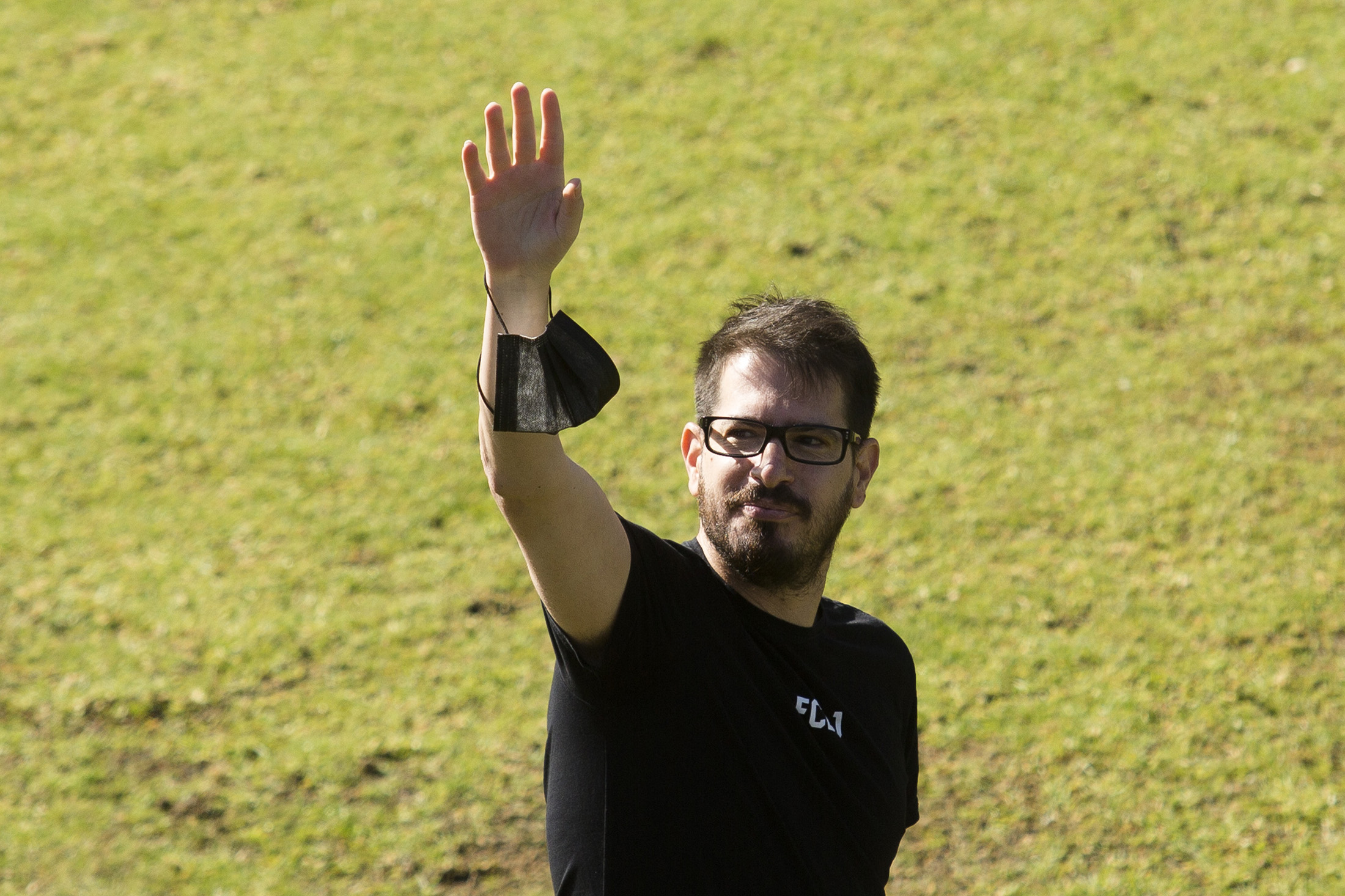 Moshe Hogeg, Beitar Jerusalem Football Club co-owner, waves to team supporters during a training session. Photographer: Amir Levy/Getty Images Europe
Israeli Moshe Hogeg, co-owner of Beitar Jerusalem, one of the country's premier league soccer clubs, has been arrested alongside seven others on suspicion of cryptocurrency fraud, police said. They were detained in early morning raids on their homes and businesses.
Reliance Industries Ltd. scrapped a plan to sell a 20% stake in its oil-to-chemicals unit to Saudi Aramco as the Indian company focuses on renewable energy. Reliance said it remains committed to its pact with Aramco, but didn't specify the contours of the partnership. 
Saudi Arabia will likely find plenty of buyers for its green bonds, through which it hopes to raise billions of dollars. But environmental, social and governance investors are seeking more details about the planned issuance, which seeks to recast Saudi as a viable target for capital in a world increasingly shaped by environmental concerns.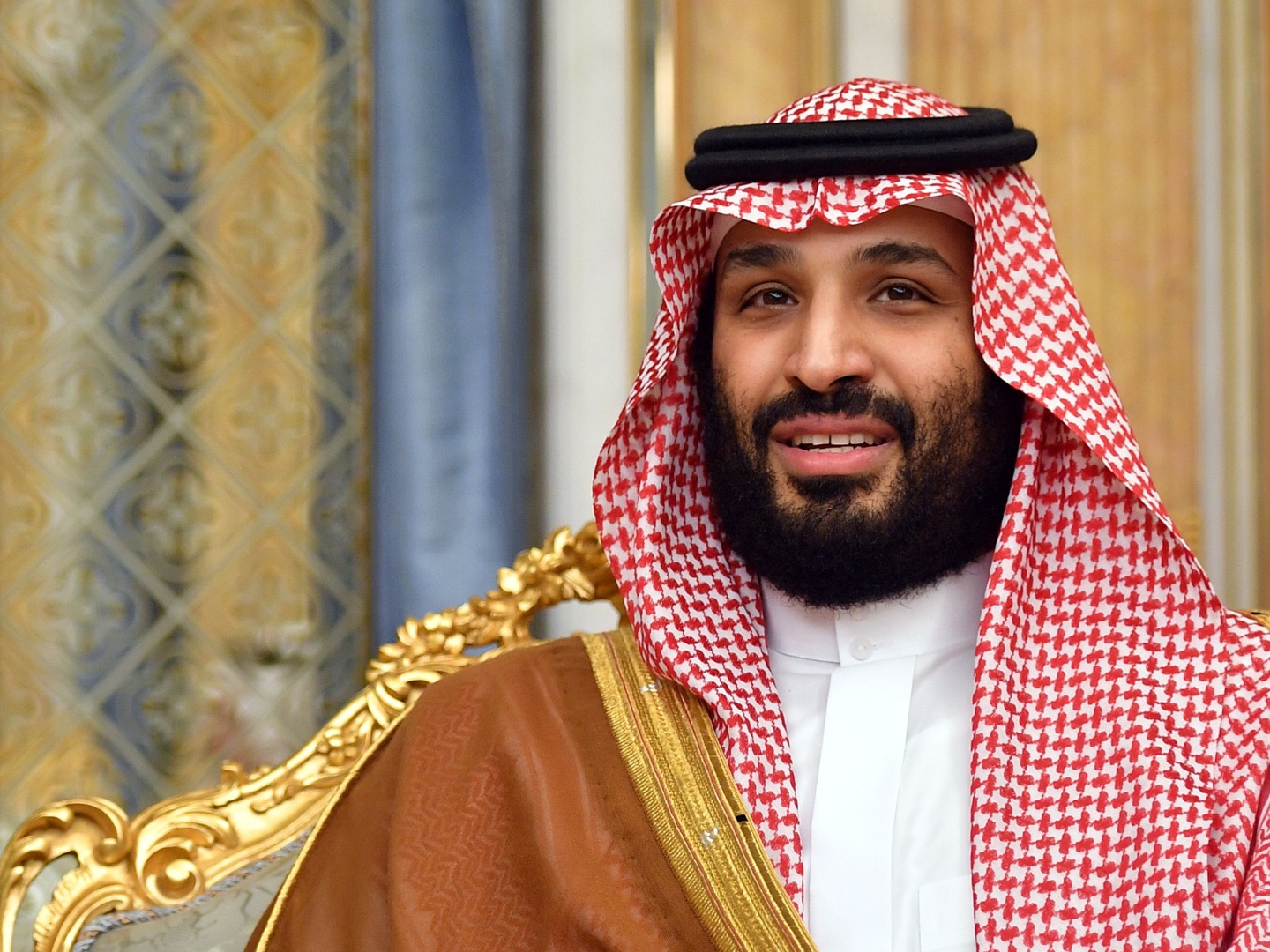 Saudi Arabia's Crown Prince Mohammed bin Salman Photographer: MANDEL NGAN/AFP
U.S. Defense Secretary Lloyd Austin cautioned that talks with Iran about complying with obligations agreed to under a 2015 deal to limit its nuclear program may not lead to a new deal. Negotiating teams return to Vienna later this month.
Yemen's Shiite Houthi rebels said they used drones to attack Saudi Aramco refineries and King Abdullah airport in Jeddah. The Houthis said the strikes were in response to an escalation in fighting in Yemen by Saudi-led coalition forces.
Israel interest rate decision, Nov. 22
Libyan Energy & Economic Summit, Tripoli, Nov. 22-23
Abu Dhabi Fintech Festival, Nov. 22-24
Global Manufacturing & Industrialization Summit, GMIS, Dubai Nov. 22-27
UN Nuclear Chief Rafael Grossi to visit Iran Nov. 22-23
Middle East countries, likely to be among the hardest-hit by climate change, are taking their first steps towards working together to counter the coming crisis. 
This week Israel and Jordan will sign a water-for-energy pact along with the UAE and the U.S. The agreement will see Israel buying solar energy from Jordan in return for an increase in the amount of desalinated water it sells to the kingdom, according to Israel's Energy Ministry.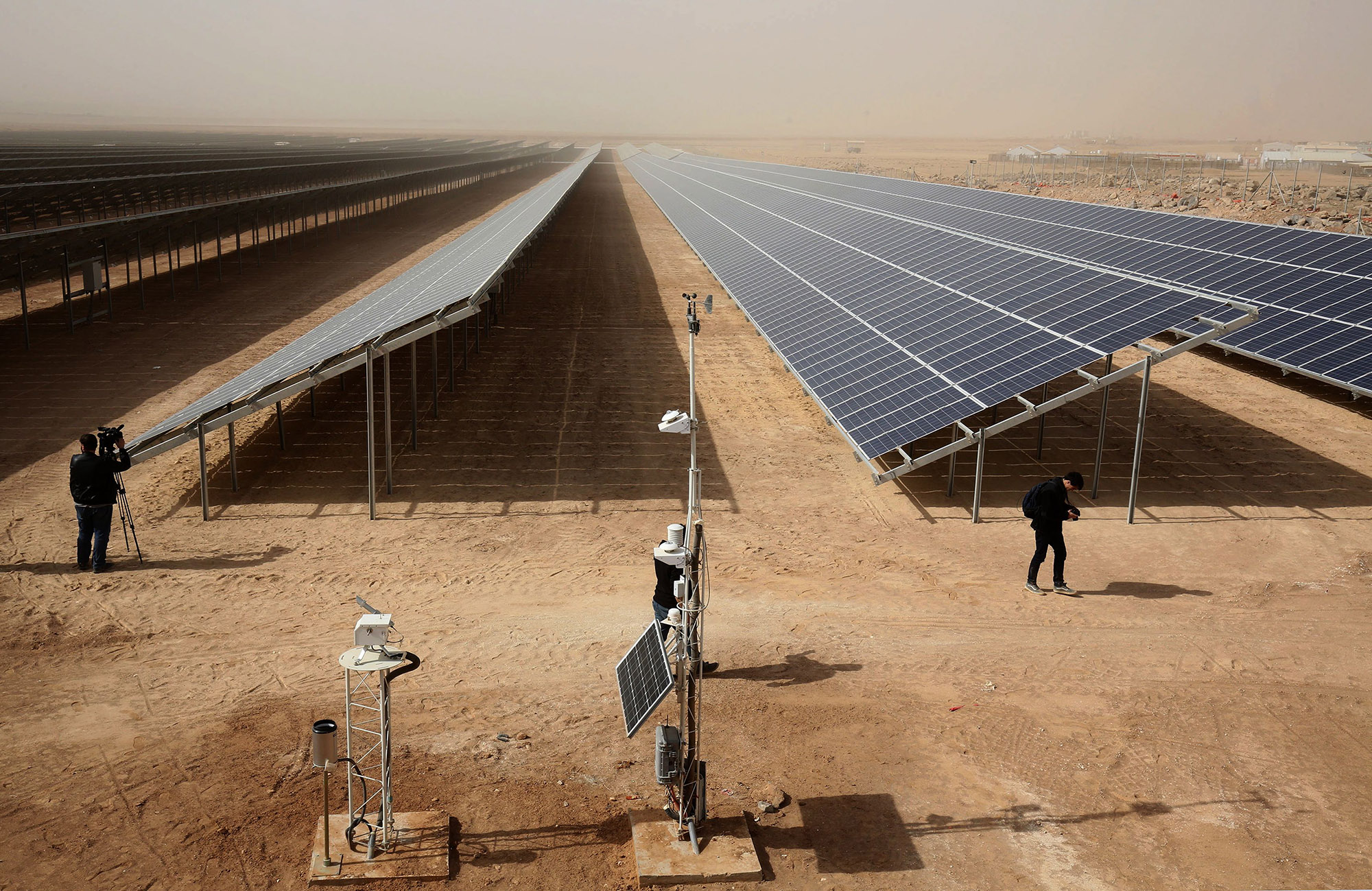 A solar power plant in Jordan.   Photographer: Khalil Mazraawi/AFP/Getty Images
"The arrangements are a very clear win-win for both parties concerned that lead to climate resilience," said Gidon Bromberg, Israel country director for EcoPeace Middle East. 
If it goes ahead, the project will be the biggest regional cooperation project ever undertaken between Israel and one of its neighbors, according to Axios.   
Know someone else who would like this newsletter? They can sign up here.
-------- You also should read more news below: ----- [arpw limit="10" post_type="post" post_status="publish" thumbnail="false" thumbnail_size="arpw-thumbnail" excerpt="true" excerpt_length="2000" ]