News of a tragedy is breaking tonight in the United States, at the beginning of Thanksgiving week.
Police say more than 20 people, including children, were hit when an SUV plowed into a Christmas parade in Waukesha, Wisconsin. Some have died, they said, but did not give exact numbers.
A witness, Angela O'Boyle, was watching the parade from her balcony and watched the horrific scene unfold below her. "The next thing I heard were screams and turned my head and saw the car come and plow into the band that was just past my balcony at that point," she said.
"It hit at least two people right away and rolled over them. And then continued down the road to People's Park, which is at the end of the block – and then kept going, it didn't stop." 
Milwaukee Journal Sentinel intern Kaylee Staral told CNN's Pamela Brown that "there were a lot of screams — and we almost thought maybe it was Santa, but it was a red SUV and it hit a lot of people."
Police said that so far there is no indication of a terrorist motive, but said one person of interest is in custody and the threat to the city has passed.
Stay in touch with CNN's live reports here.
'This is so sad and senseless'

"This is so sad and so senseless," Waukesha Alderman Don Paul Browne told CNN, describing how he had participated in the parade before the deadly incident occurred. "We have a wonderful Christmas/Holiday Parade and there was so much joy and holiday spirit in the air before all this happened. Please keep our victims, families and our community in your thoughts and prayers."

Two hostage missionaries were freed in Haiti.  
Residents of an Italian island were evacuated due to dangerous clouds of carbon dioxide.
And Chinese tennis star Peng Shuai said she was "safe" in a video call with the International Olympic Committee's president. 
Meanwhile in America, the fiancée of murdered journalist Jamal Khashoggi wants Justin Bieber to cancel his concert in Saudi Arabia.
A man who pleaded guilty to rape in New York won't serve any prison time. 
And dozens of people ransacked a department store near San Francisco. 

Days after Kyle Rittenhouse was acquitted of first degree intentional homicide and four other felony charges after he killed two protesters and wounded another in Kenosha, Wisconsin, last year, his case is exposing America's political divides over guns, justice and law enforcement.
The teenager testified that he traveled to the city to protect property amid protests over the police shooting of a Black man, Jacob Blake, and that he used his weapon in self-defense after feeling threatened. Jurors voted to acquit Rittenhouse after reviewing both video evidence and testimony.
He has been hailed on the right as a hero and exemplar of an American's right to bear arms. Liberals, however, warn that the acquittal could encourage others to pursue vigilante justice that could make it more dangerous for people to exercise their constitutional right to protest. Here is how some leading US politicians reacted to the case: 
US President Joe Biden told reporters on Friday that he stood by the Rittenhouse jury's conclusion, saying, "The jury system works, and we have to abide by it." In a separate statement though, he admitted that the trial "will leave many Americans feeling angry and concerned, myself included."
Former President Donald Trump told Laura Ingraham on Fox News that the jury's call was a "great decision," adding, "If you are talking about innocence based on self-defense, this was the poster boy."
"This entire tragedy makes the case that we should not allow our fellow Americans to own and use weapons that were originally designed for battlefield use," Democratic Texas gubernatorial candidate Beto O'Rourke told CNN's Dana Bash on Sunday.  
J.D. Vance, an Ohio Republican senatorial candidate, went so far as to describe the trial as "mob rule" and politically motivated harassment. "The deceit and dishonesty that we saw in this case was a disgrace and made a mockery of our First Amendment which does not give a license for the powerful to harass politically inconvenient children. This was not impartial justice in a constitutional society; it was mob rule in a banana republic," he said.
Chris Christie, the former Republican governor of New Jersey, said on Fox News Sunday: "I think those people on the left are just attempting to continue to tear our country apart for political gain. Anybody who looked at the videos of this could tell that this was an act of self-defense. Anyone who knows the law would know that." 
Rep. Jerrold Nadler of New York, the Democratic chairman of the House Judiciary Committee, criticized the trial for very different reasons. "This heartbreaking verdict is a miscarriage of justice and sets a dangerous precedent which justifies federal review by DOJ," he tweeted. "Justice cannot tolerate armed persons crossing state lines looking for trouble while people engage in First Amendment-protected protest."
And John Huber, father of Anthony Huber — who was fatally shot by Rittenhouse — told CNN's Fredricka Whitfield on Saturday simply, "The kid shouldn't have had a gun."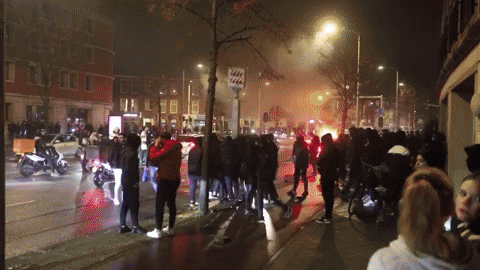 Rioting broke out in The Hague on Saturday over the Dutch government's new coronavirus measures. (Persbureau Marofer) 
 View in browser  |  All CNN Newsletters
Want to easily manage your newsletter subscriptions?
Copyright ©  2021 Cable News Network, Inc. A WarnerMedia Company, All rights reserved.
Our mailing address is:
Cable News Network, Inc. A WarnerMedia Company
1 CNN Center NW
Atlanta, GA 30303-2762
Want to change how you receive these emails?
You can  from this list.
-------- You also should read more news below: ----- [arpw limit="10" post_type="post" post_status="publish" thumbnail="false" thumbnail_size="arpw-thumbnail" excerpt="true" excerpt_length="2000" ]