An exclusive inside look with your free CNN account
⏰ how CNN stays up and running no matter what
Each week, we end this newsletter asking you to tell us who you'd like us to feature. We've gotten a few requests to meet the people behind the scenes who keep the network operating. 
So as many celebrate the end-of-year holidays, we turn the spotlight on three CNN employees who work on teams that operate around the clock and whose jobs are essential to this 24-hour-a-day, seven-day-a-week news operation.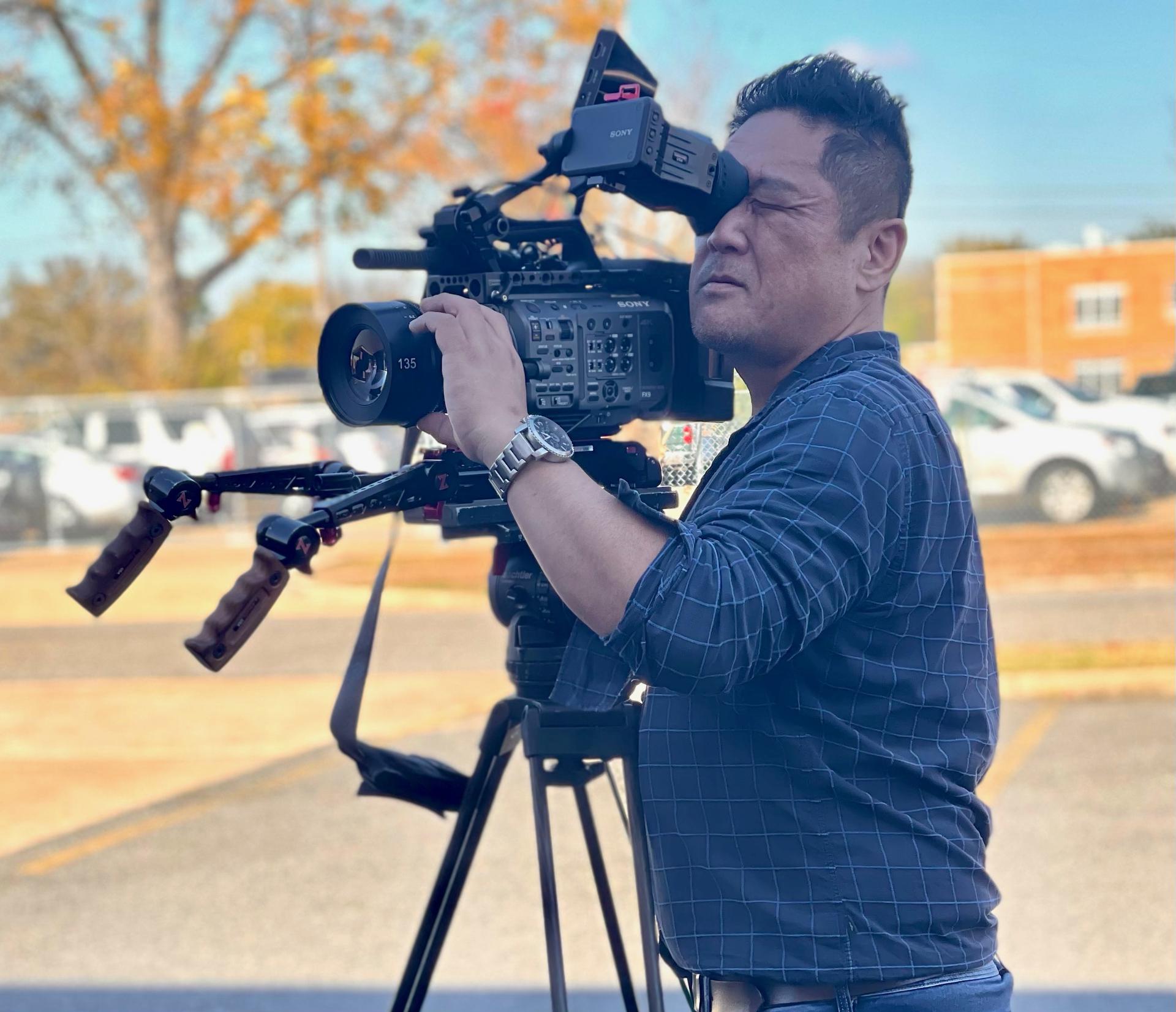 Taka Yokoyama spends nearly half the year on the road. Photo credit: Andy Buck
Taka Yokoyama, photojournalist
What he does:  "I am a news cameraman. I am not in the studio (running cameras) for a show, I am in the field where the news happens," Yokoyama explained. Like all of CNN's photojournalists, he is responsible for capturing video imagery for news stories and documentaries that air on television and across the network's digital platforms. In 2021, Yokoyama has been away from his home in Atlanta nearly half of the year covering news events. Right before we spoke with him, he had just returned from Kenosha, Wisconsin, where he was covering the trial of Kyle Rittenhouse. 
Biggest news story he's covered: Yokoyama was a block away from the Boston marathon bombing in April 2013, when he was working as a cameraman for a local news station. He and his team were covering the marathon when he heard a boom. "I thought it was fireworks," he said. After hearing the second explosion, they realized it was a bomb. A short time later, he was covering the horrific aftermath of the terrorist attack that killed three people and injured at least 264 others.  How does he handle the stress of working in a dangerous environment? "I always think, 'What I'm seeing on the camera's viewfinder is for the viewers.' It's not about me or my career or for my supervisor, but it's for the people who are watching TV.' And that makes me feel more calm." Yokoyama said he also feels protected by the large camera equipment he carries when he's on a dangerous assignment. "This is my armor," he said. "Unlike with a small camera, people see what I am doing (that I'm a journalist)." 
Most interesting celebrity encounter: Yokoyama was assigned to cover a movie premiere and, he explained, "I was told, 'Hey, there will be many actors so just grab them and get a sound bite.' I am not good at remembering (celebrities') faces and names," he confessed, but his boss assured him there would be other reporters there, so just follow their cues. When he arrived, he was the only member of the press. He interviewed one man who looked vaguely familiar. Since he didn't know him, he just asked him some general questions. He later learned the man was the star of the film, Bradley Cooper. "He was very nice and laid-back," Yokoyama recalled.  
What's the biggest misconception people have about your job? "What my family, my friends, other people see on TV is probably only one percent of what I do. There are so many preparations — it takes so much time, people don't get it. If you watch a 10-second interview on TV, we usually spend two hours setting up the lighting, the background, and another two hours to bring the gear."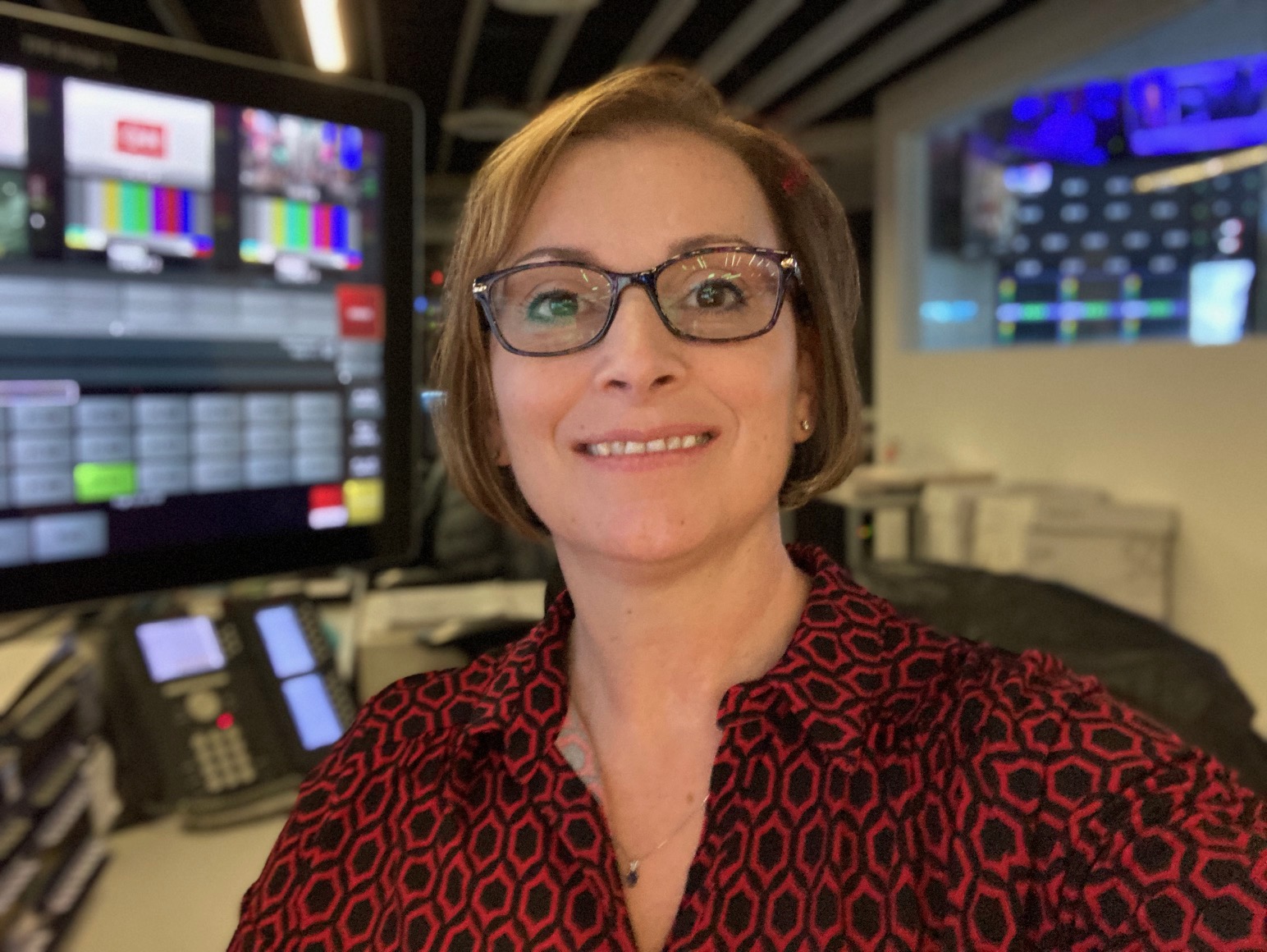 Christie Corologos-Medina inside the technical production bridge, where she books studios and answers calls from guests and producers. 
Christie Corologos-Medina, technical production manager
What she does:  Corologos-Medina is a technical production manager for CNN TV. Based at the CNN Center in Atlanta, she is responsible for ensuring that CNN's television audience can clearly see and hear all of the people who appear on a live show — from hosts to guests.   
It takes her about two hours to prepare the live shows that she works on. She described setting up a Washington-based show hosted by Wolf Blitzer: "I had four cameras coming from DC, and all the audio coming off those cameras, and then all of their IFBs (the earpieces that guests and hosts wear to stay in communication with the control room producer). I have a guest in a vendor studio in St. Louis so I'm talking to them, asking them to frame the shot up, make sure (microphone) and audio are good. And then I might have a guest coming in from a Skype or Cisco product (web-based videoconferencing tools that guests can use from their laptops). 
"All of that has to be set up like a normal studio. You don't want anything that's not in sync. My job is to work with the studio operators in DC and then my crew in Atlanta to make sure everything works. Then once the show starts, I hand everything over to the director." Because the technical nature of her job makes it impossible to work remotely, Corologos-Medina and the other technical production managers and control room staff have been working full time on site throughout the pandemic. 
 
Biggest news story she's worked: There are many, but the one that stands out for Corologos-Medina was the night she was working during the pandemic when violent protests erupted in downtown Atlanta on May 29, 2020, and protesters entered and damaged the CNN Center.  
"I was doing the Anderson Cooper show … and just as we're finishing, my phone starts ringing and I'm thinking, why is my boss calling me in the middle of my show? And she was calling to say, 'You can't leave the building.' " Not only was it unsafe to leave, but because other staffers couldn't get in the building, Corologos-Medina had to help prepare other shows.
"We had just finished our show and we went down to see what was going on," Corologos-Medina said. They were turned back by a security guard. "We started looking at the local (TV) networks and we see (video of protesters) just breaking down the windows in front of the big red CNN letters. It was scary." 
When she was finally allowed to leave the building around midnight, so many downtown streets were closed that she and other CNN staffers had to drive behind a security guard who helped them navigate out of the city.  
Most interesting celebrity encounter:  As part of her job, Corologos-Medina speaks to newsmakers and celebrities when they appear as guests on CNN, including Presidents Joe Biden and Donald Trump, Bill Gates, Mark Zuckerberg, Alicia Keys, Will Ferrell and Sean Penn. She talks to them remotely, through their earpieces, to get them to test their audio levels and adjust their camera angles. "A lot of the famous people are quiet and shy," she said.  "But the politicians? No, they will chat your ear off." She met Dolly Parton on a guest setup that she wasn't even supposed to be working on. "The camera guy was nervous about mic'ing her (clipping the microphone onto her shirt) and so he asked me if I would," Corologos-Medina said. "She was super sweet."
 
What's the biggest misconception people have about your job? "People's minds are blown when I tell them that my anchors are in New York. We're in Atlanta and they're in New York. They're just like, how does that happen?  And it's just technology."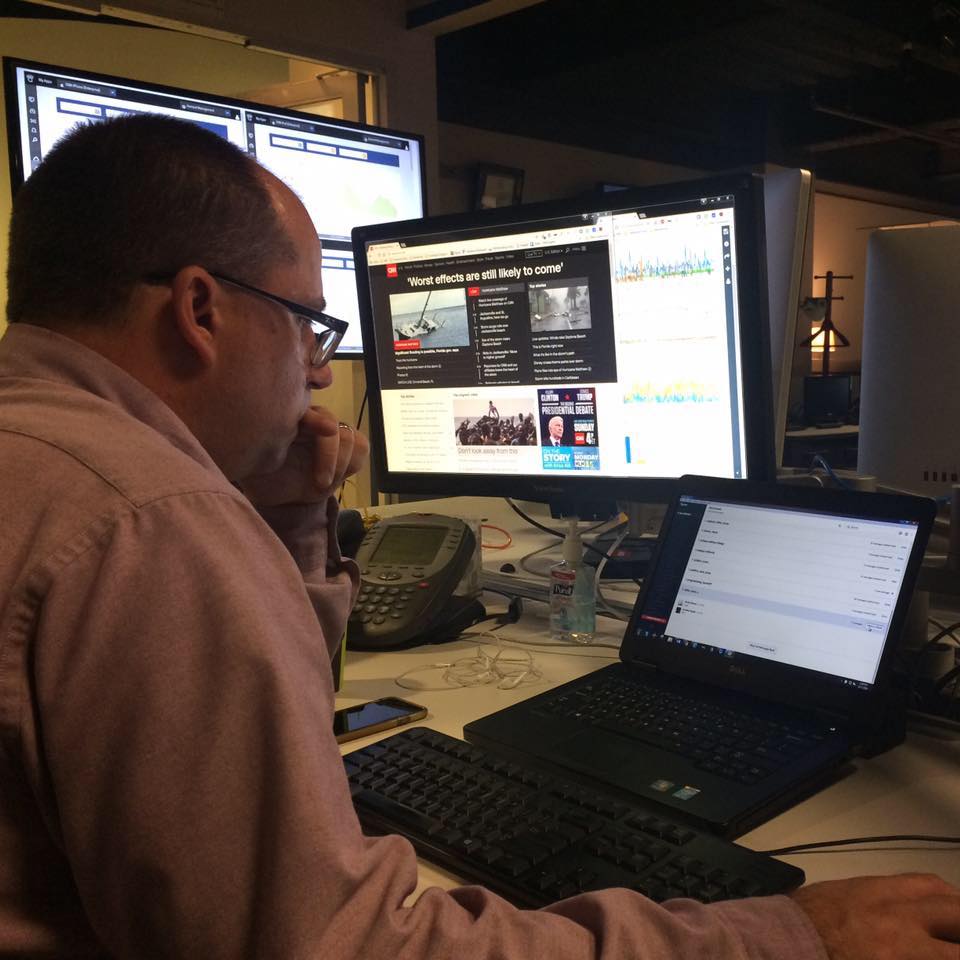 Whether at home or in the office, Don Buckindail's job involves monitoring multiple screens. Photo credit: Karen Buckindail
Don Buckindail, senior manager, software engineering  
What he does:  "We bridge that gap between editorial — the people … creating the content — and the people that build what editorial uses," he explained. When there's a major news story that brings a massive audience to CNN's digital platforms or a problem like a server outage, his team springs into action to make sure the audience can still access content across all of CNN's websites and apps.  
Biggest news story he's worked: The US Capitol attack on January 6, 2021. "I was watching the rally and said, 'This doesn't look good' and immediately got on our team and said, 'We need to be on standby.' And as I was doing that, all holy Hades broke loose. We immediately go into what we call breaking news coverage: We immediately freeze all deployments, so (there are) no code changes because we want everything to remain stable (knowing that a larger audience will be accessing the website during major breaking news). 
"We have a list of monitoring tools that we immediately pull up and start watching: Is the website performing? Is the CMS (content management system) performing? Are we seeing spikes? Are we seeing a bunch of errors, whether internal or external? So we go into immediate monitoring mode." 
What's the biggest misconception people have about your job? "For a news outlet that reaches as many people as CNN, it's not as simple as, 'Here's the website, and what you see is what you get,'" Buckindail explained. "There is a backup on a backup on a backup to make sure that we're delivering (the news) whenever anybody wants it."
Everything may be operating normally for the everyday CNN.com user while Buckindail and his team are dealing with critical issues such as a recent Amazon Web Services outage.  
 
"CNN is a global brand 24-7-365, so when people come to us, we want to make sure that the content is there, that any problems we have, they don't know," Buckindail said. His team and its partners across CNN Digital have built "resiliencies" based on lessons learned from previous technical issues.
 
"There are multiple layers of CNN.com that would have to go down for users to know that there's a problem."
💳   CNN insider rec of the week
💻 Watch: CNN's Anderson Cooper and Bravo TV's Andy Cohen co-host "CNN's New Year's Eve Live" from New York's Times Square on Friday starting at 8 p.m. ET.  Share your New Year's greetings on social media using the hashtag #CNNNYE, and CNN may feature your post on the bottom ticker throughout the evening.
🔮 Explore:  In our annual Crystal Ball feature, we asked CNN's contributors to predict what will happen in 2022: Who will win the Super Bowl? What about the midterm elections? What film will get the Oscar for best picture? Here's what they told us. 
🗣️ Get involved: Join a virtual discussion with CNN journalists next Wednesday on "Lessons from the Insurrection: Where are we now?" More details and a sign-up link here.

💐  in memoriam: Manuel Perez
CNN Digital's former editorial director Manuel Perez, known as Manny to his colleagues and friends, is remembered for his quiet, thoughtful leadership. He will be missed. 
Who would you like to see spotlighted next? Send your thoughts to insidecnnkatanacnn.com. We look forward to hearing from you.
– Written and edited by Beryl Adcock, Tricia Escobedo, Melissa Mahtani and Jessica Sooknanan

INSIDE CNN
An exclusive inside look with your free CNN account